People News
Published on 28 - May - 2012
Jewson completes Three Peaks Challenge for Barnardo's
Ten triumphant hikers from Jewson are celebrating after completing the gruelling Yorkshire Three Peaks Challenge, raising almost £14,000 for charity partner Barnardo's.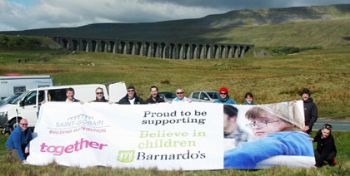 Members of the Three Peaks Challenge team, who completed the hike on May 12
The team included category and procurement managers as well as chief executive for Saint-Gobain Building Distribution Peter Hindle, MBE. It involved a climb to the summits of three of Yorkshire's highest peaks in less than 12 hours, covering 25 miles and a total ascent of around 6,000 ft.
Jewson category manager and organiser of the walk Richard Carter said: "I'm delighted that the Three Peaks Challenge has been such a success and we have managed to raise such a significant amount of money for Barnardo's.
"It's a truly worthwhile cause and the contribution we can now make is a real testament to all those who dedicated time, effort and determination to take part in the event."
Back to main news page