People News
Published on 14 - May - 2012
Bromborough employee celebrates 30 years with the firm
In May 1982 Bromborough Paints md Neville Wellings interviewed 17-year old Donna Geoghegan for a position as office junior and 30 years later, she's still with the company, now in the role of sales office manager.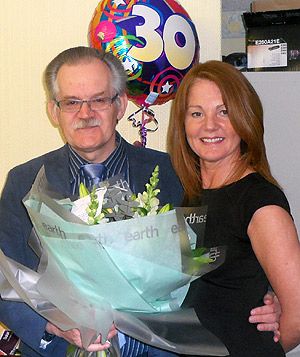 Ms Geoghegan said the time has simply flown by, but she has many happy memories of meeting great people within the industry and being lucky enough to have worked with fantastic colleagues and staff.
During her career, she has experienced an industry and a business going through many changes, yet she says it has been the family business ethos and the excellent working relationship with company owner Neville Wellings that has kept her here year after year.
To mark the occasion, on May 8 Mr Wellings presented Ms Geoghegan with a cheque, flowers and a bottle of champagne. He was highly complimentary of Ms Geoghegan's contribution to the growth of the company praised her loyalty to the Bromborough.
Back to main news page