News
Published on 27 - April - 2012
Mainlys Mica celebrates second store opening
With first store Mainlys of Devizes Mica having gone from conception during a conversation at the 2010 Totally DIY show to winning the 2011 Silver Hardware Retailer of the Year DIY Week Award, owners Colin and Clare Henrich decided the time was ripe to open a second store.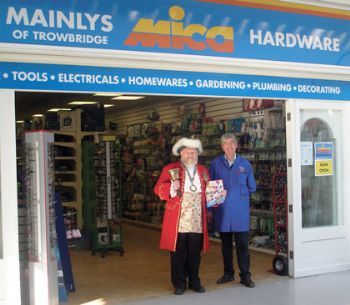 Trowbridge's town crier Trevor Heeks helped announce the grand opening of the latest Mainlys Mica
Following months of investigations with the help of Mica staff and a lots of hard work, the new Mainlys of Trowbridge Mica opened just in time for Easter. Not only did the Henrichs time it carefully to coincide with the distribution of their first Mica promotion leaflet, they arranged for the town crier to announce the official opening of the store.
Clare Henrich said: "We opened with a good response from the local people. Takings are good and have increased every day, so we are very pleased that all our hard work - well, mainly Colin's! - has paid off."
The new store has all the key departments: hardware, tools, power tools, gardening, housewares, decorating, plumbling and electrical.
Mica retail development manager Robin Page was full of praise for the new store: "It looks great, we've worked together to maximise the store layout to generate most revenue, got a great fascia on the front and filled it with some great products from Mica suppliers, thanks also to those who've supported us with stands, PoS etc".
Mica ceo Steve Ball added: "The news of a second 'from scratch' new Mica store in the last six months, following Denham Mica DIY in the run up to Christmas, is great news not only for Colin and Clare personally, who I congratulate for their entrepreneurial spirit, but also for Mica, displaying growth both inwardly and externally to the market and our supplier partners.
"It is also good news for the sector as a whole. Having a vehicle for setting up new stores, based on Mica's strengths of marketing, buying and retail development is showing the potential of the independent sector."
Comments
---
30/04/2012 11:17:00
Great news
By Ashley Coward - BlueSpot Tools
This is great news to hear with all the economic gloom that is pushed in our direction on a daily basis.
All the best to Clare and Colin!
---
DIYWeek.net does not edit comments which are submitted directly by our users to express their own views. Please report abuse of our comment system here.
Back to main news page

© Datateam Business Media Limited 2012. DIY Week.net news articles may be copied or forwarded for individual use only. No other reproduction or distribution is permitted without prior written consent.