Product News
Published on 23 - April - 2012
Bosch illuminates what lies beneath
Bosch has safety in mind with its new PMD 10 multi detector.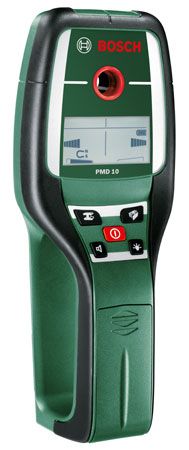 It's designed to detect what lies beneath the surface of walls before drilling or nailing, and can pinpoint potentially dangerous electrical cables, gas or water pipes.
Using high precision, the PMD 10 scans the wall and guides the user to the safest drilling location.
It is designed to detect up to a depth of 100mm in a brick wall, has an LCD screen and features audible and visual LED warnings. RRP is £79.99.
For more information contact:
Bosch Power Tools
Back to main news page