News
Published on 18 - April - 2012
UPDATE: Social housing B&Q vouchers leaving DIY SMEs out in the cold
The DIY retailer has recently been in the spotlight for a deal which saw social housing tenants in South Shields given vouchers only valid at a B&Q superstore, described as "grossly unfair" by neighbouring independent DIY traders.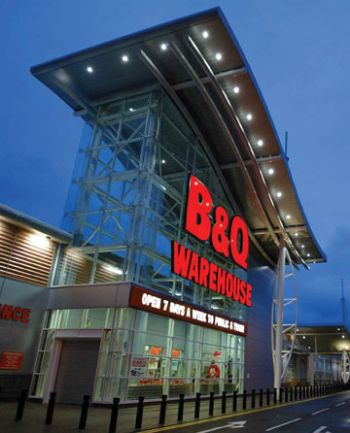 B&Q's involvement with social housing tenants is not isolated to South Tyneside. Schemes in Manchester, Swansea, Leeds, Stoke-on-Trent and Kirklees also involve tenants being given vouchers solely for use at B&Q, excluding all other DIY retail trade. The Tenant Cashback scheme, introduced
last year
as a means for smaller traders to make more money, has also recently backed deals
favouring exclusivity
at B&Q.
It's the councils rather than the retail giant who have come under fire for the schemes, as news of a hefty discount incentive for those housing providers who sign up came to light.
DIY Week has been told South Tyneside council is receiving a 13.5% discount from B&Q as part of the deal, amounting to around £53,000. B&Q has not yet confirmed how many other social housing providers hold accounts with it.
Walter and Kath Metcalfe of independent DIY store Metcalfe's Home Décor used to get a lot of trade from social housing tenants who had been provided with earlier versions of the home improvement vouchers, once valid at any DIY store.
"When the trade dried up we enquired with the council," Mrs Metcalfe told DIY Week. "We were told that the vouchers are only usable at B&Q.
"The Decent Homes people [at South Tyneside council] told us that we wouldn't be able to handle the volume of the sales we'd get if the voucher was extended to us, because it would be too overwhelming and then when it dried up we'd be left struggling.
"They said we weren't big enough to take on all the customers. My husband asked them if they'd ever been in our shop and they said no."
A meeting is scheduled to take place tomorrow (April 19) between members of the social housing group, B&Q and Walter Metcalfe to discuss expanding the voucher scheme.
B&Q told DIY Week in an earlier statement that it "welcomed the review" of the Decent Homes scheme in South Shields.
For more details on this story, see the April 20 magazine edition of DIY Week.
Comments
---
16/11/2012 15:30:00
B & Q Vouchers
By Anthony Oliver
So much for the local council supporting local businesses.
I wonder how many of the vouchers are used to purchase decorating products and how many are used to purchase other items to be used by the tennants or indeed items that can easily be turned into cash !
---
20/04/2012 18:57:00
B&Q vouchers
By brian jones
where is the surprise, most councils favour multi nationals up against independants, the goverment should act straight away and make it a level playing field, i suggest all shopkeepers contact their local councilers and complain bitterly,
---
19/04/2012 14:08:00
b & Q
By David Brinsden
I had a hardware shop in Hemel Hempstead & even 15 years ago our local council was doing this,but I would honour them at 90% of face value as people preferred our shop because we gave them advice.
---
19/04/2012 12:16:00
Social housing B&Q vouchers leaving DIY SMEs out in the cold
By Colin Nutley
Once again we miss out, so why is this not reported back to the Office of Fair Trading? If the government are really trying to boost our economy, then surely a level playing field is the starting point, followed by fair play.
---
DIYWeek.net does not edit comments which are submitted directly by our users to express their own views. Please report abuse of our comment system here.
Back to main news page

© Datateam Business Media Limited 2012. DIY Week.net news articles may be copied or forwarded for individual use only. No other reproduction or distribution is permitted without prior written consent.