News
Published on 22 - March - 2012
Screwfix opens first DIY store
Screwfix is scheduled to open its first dedicated DIY store on Saturday (March 24) at Shepton Mallet in Somerset. Named DIY Express, the 5,000sq ft store is located at the Haskins Retail Centre.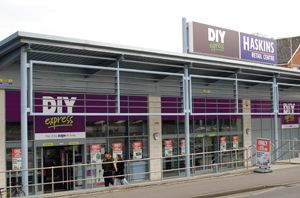 DIY Express Ltd was incorporated in September last year. The directors are Graham Bell and Jon Mewett, both directors of Screwfix Direct. There is no indication in the company's registration details of a direct link with B&Q, which like Screwfix is owned by Kingfisher, but the opening comes after many years of speculation about the possible development of a small-format B&Q store.
The store opening will be hosted by Ground Force's Charlie Dimmock and Julia Kendall of DIY SOS, together with Shepton Mallet council chairman Chris Inchley. The first 100 customers will receive a free 23-piece DIY tool kit, and all customers will have the chance to meet the Dulux dog, and win £250-worth of Dulux paint on the day.
"With the DIY season upon us, we're really excited to be opening the first ever DIY Express in Shepton Mallet," said store manager John Stinchcombe. A second DIY Express is scheduled to open at Hayes in Middlesex next week, and Screwfix has been recruiting staff for the Hayes unit through its website.
Haskins Group MD Kevin Haskins said the DIY Express opening will be a huge boost for other businesses in Shepton Mallet. Existing tenants at the Haskins Retail Centre include Aldi, Edinburgh Woollen Mill, Ponden Home, and Haskins Furniture.
Local competitor Right Price DIY, which seems to have had Shepton Mallet to itself since Focus DIY closed last summer, is responding aggressively to the DIY Express opening. It is promising a free gift to the first 100 customers to spend £10 instore on March 24 - and to ensure a healthy footfall it is offering a blanket '20% off everything' on the day DIY Express opens.
Comments
---
20/09/2012 22:50:00
faulty product
By Cyril
Brought a combi Drill from the new depot in Hayes middx when it first opened 6 months a go.
I am now left with a drill that as had little use which does not work.
Found out this was only a TRIAL STORE all my details was stored on there system only !!
---
23/08/2012 12:55:00
Closed
By DiyGuy
Why has their store in Hayes closed? How long until the Shepton Mallet store follows suit?
---
01/04/2012 21:36:00
DIY Express
By Shepton Shopper
Whilst any real employment increase is good for a small town the question is what is the actual increase in jobs and for how long. Look at how Focus came, bringing employment, and went again leaving unemployement. A large company full of promise but in reality as soon as the storm loomed they went back to port and left us.
This store is badly sited, promises cheap prices but in reality they aren't and once people rumble that are not likely to to be sustainable. Poor pricing, poor parking and a poor offering. I might be wrong, but that is how I see it.
---
30/03/2012 19:53:00
Whats the fuss!!
By Anonymous
Are we not looking at this a bit negatively. The last time i looked at the papers unemployment was at an all time low. So why are we slating companies such as Kingfisher for trying to invest in the countries economy by creating jobs??? Just a thought.
---
29/03/2012 02:12:00
New 'Screwfix outlet
By Anonymous
Having looked at this retail outlet for Screwfix it seems no differnet to somewhere like Focus that did not survive in this town except parking is a problem despite there being car parks nearby. I have used the independent mentioned in the last paragraph and cannot fault them for service, convenience and price. They outlived Focus and I hope they outlive 'Screwfix'.
---
28/03/2012 16:20:00
Independent DIY Fight Back
By Right Price DIY
Right Price DIY fight back.
See this link:
http://www.sheptonmalletpeople.co.uk/Right-Price-DIY-Fights/story-15601730-detail/story.html
I don't think DIY Express have done any research before opening in Shepton Mallet. We are very positive as our customers have reassured us that after visiting DIY Express, we have no worries as they will continue to support us.
Our 20% OFF vouchers were a huge success, record breaking figures. I think stood outside of DIY Express on their opening day handing out our vouchers helped. We have been a DIY shop for 16 yrs and will continue to do so for many more years, we won't be going anywhere.
---
23/03/2012 20:44:00
Diy Express
By michael
This is a good move for screwfix. Moving into DIY as there sister company moves into trade.
Good luck.
---
22/03/2012 15:57:00
Black Day For Independents
By Diyman
Totally 100% agree with concerned retailer.. Suppliers also need to support independents..As the big sheds always try to squeeze margins to a min and penalise for the least reason on delveries.. Local councils need to look at supporting existing independents.. The high street is bland enough and retail parks are now just copycat schemes...Likes kingfisher are quite happy for independents to go under......Lets not give them statisfaction
---
22/03/2012 11:56:00
A Black Day for Independents
By Concerned Retailer
Like Tesco before it, (does 'express' sound faniliar?) Kingfisher has realised there is only a certain number of aeroplane hanger sized stores it can open before they simply take market share from eachother.
So now they're looking to squeeze out the independents who survived the Shed proliferation by taking away one of their USP's - being 'local'.
Does anyone know how big a share Kingfisher will seize through constant tv advertising & loss leaders on a few top lines before it's considered anti-conpetitive? 30% ? 50% ? 90% ?
Independent food retailing has been destroyed by Multiples moving into every level of the market, is DIY next?
I know the other side of the argument 'oh but if indies maintain top customer service there'll always be a place for them' - well I'm afraid that only holds up as long as there are enough of them left for major brands to feel its worth dealing with. Banding together through buying groups will obviously allow indies to continue to compete in the medium term, but remember the bigger these giants get, the more they can spend on tv advertising to make everyone forget that the indie down the road, with less parking than the custom build 'express' store, even exists.
The 24th March is going down as a black day in my diary, I can only hope that my assessment is proved incorrect, or the competition commission get involved, for the independent sectors sake.
---
DIYWeek.net does not edit comments which are submitted directly by our users to express their own views. Please report abuse of our comment system here.
Back to main news page

© Datateam Business Media Limited 2012. DIY Week.net news articles may be copied or forwarded for individual use only. No other reproduction or distribution is permitted without prior written consent.