News
Published on 27 - February - 2012
One in ten people are "less scared of DIY"
According to a survey undertaken by B&Q, 10% of people said they were "less scared" of carrying out their own home improvements than they were this time last year.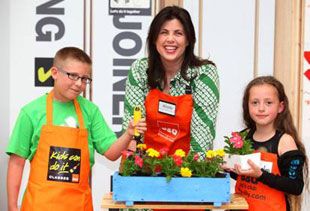 B&Q celebrity ambassador Kirstie Allsopp
Last year the same survey revealed 53% of consumers were afraid of DIY, but since the recession has taken an even stronger hold on household budgets, the number has dropped by 17%.
In its poll of 2,000 people, B&Q said it "looked into the effect its yearlong campaign involving in-store classes, workshops, online forums, celebrity ambassadors and in-store experts aimed at helping [people] take charge of maintaining [their] homes at a time when the stagnant property market has forced many of us to stay put as opposed to moving out."
The home improvement retail giant says 2012 will see more than a quarter of the nation renovate their home ahead of the Jubilee and Olympics, with the average person expected to invest around £808 - a figure more than 10% higher than that of last year. B&Q predict kitchens, bathrooms and gardens to be the biggest areas of growth.
The survey also highlighted an increasing significance of the web as a tool for instant advice on home improvement, following a ten percent increase in demand for online information since last year. B&Q is planning to meet this demand with the launch of almost 100 'how to' videos online, and regular Q&A with celebrity ambassadors and experts.
The results of the survey coincide with the retailer's launch of its 'how to' theatre at this year's Ideal Home Show, opening March 16.
Visitors to the show can expect to see the store's celebrity ambassadors Kirstie Allsopp, Alan Titchmarsh and George Clarke alongside B&Q experts hosting a series of 'how to' workshops. These will be focussed around giving consumers the chance to learn skills and gain confidence to tackle basic, cash-saving home improvements.
B&Q's marketing director Katherine Paterson said: "We're delighted to continue our mission to make home improvement easier for everyone. We want to give the nation the skills and confidence to improve their homes through online forums, in store demonstrations and classes and initiative such as our collaboration with the Ideal Home show."
The retailer's celebrity ambassador Kirstie Allsopp said: "In these tentative times people start to nest, making the most of what they have and turning their homes into a haven. It's amazing how a lick of paint and a quick weekend work-over can transform your room into a restful and calming retreat from the outside world.
"It's all about getting stuck in, having a go and reaching that moment when you can turn back with a huge grin on your face and say 'I did that.'"
Comments
---
29/02/2012 14:16:00
Be careful!
By Paul Martin
As much as I think it's great that people are taking an active role in DIY, you should always consider safety and plan properly.
---
27/02/2012 22:59:00
10% less people scared of DIY
By Mike Furniss
What complete garbage,celebrity ambassadors obviously do not shop in an independant DIY shop because if they did, they would soon find out that the real ambassadors are the people who own and run the the shop!! I know of many independantly run shops who can out price and out sell B & Q any day of the week.
---
DIYWeek.net does not edit comments which are submitted directly by our users to express their own views. Please report abuse of our comment system here.
Back to main news page

© Datateam Business Media Limited 2012. DIY Week.net news articles may be copied or forwarded for individual use only. No other reproduction or distribution is permitted without prior written consent.