News
Published on 23 - January - 2012
Rothenberger issues urgent global product recall
All Map/Pro stock has been recalled over fears that faulty valves are causing leaks on gas cylinders.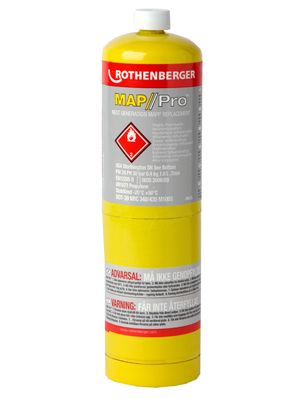 The move follows an initial recall of select
Rothenberger
and Super Ego brand Map/Pro cylinders in Australia. However, concern has been stepped up due to the danger the cylinders could pose to the public, and manufacturer Worthington Cylinders has decided to issue a global notice, recalling all Map/Pro cylinders sold before January 15, 2012.
This includes the yellow Rothenberger Map/Pro gas cylinder 400g (part no. 3.5536), the Super Fire brazing torch set (part no. 3.5669), the Quickfire torch set (part no. 3.5667) and Hotbag torch sets with Map/Pro cylinders. The 454g yellow MAPP cylinders are also affected, as are the black Propylene cylinders
The product recall notice advises firms to cease sales of all Map/Pro stock immediately and then quarantine and send all Rothenberger and Super Ego branded stock back to the company. However, there may be transport issues and the company has warned that a leaking cylinder should never be transported.
The firm assures retailers and end-users that any unused cylinders that have not had a torch attached are safe and will not leak when stored, transported or moved but should be immediately returned to the point of purchase for a refund.
A partly used cylinder that has had a torch screwed on, however, could suffer leakage, because the cylinder valve is "slow to shut off". The firm warns that, if the leak is large enough or if the gas is permitted to accumulate in an enclosed area and there is a source of ignition, a fire could occur.
A safety notice advises that, if a cylinder is currently connected to a torch or other device, the user must not disconnect it but should take it outside to a well-ventilated area to ignite the torch and burn off the entire contents of the cylinder. It is then safe to disconnect the torch and dispose of the cylinder per the label instructions.
If a cylinder has been connected to a torch or device but is not now, users should reconnect the device and empty the cylinder in the same way.
For more information contact Rothenberger on 01536 310300.
Rothenberger explained that cylinders produced after January 12, 2012, are not affected by the recall and can be identified by a black or white diamond-shaped mark at the top shoulder of the cylinder.
Comments
---
30/06/2013 10:32:00
By Neil Brice
Mapp gas I have amap/pro 400g canister with no c.a.s 115-07-1un1077 is this canister safe or not
---
DIYWeek.net does not edit comments which are submitted directly by our users to express their own views. Please report abuse of our comment system here.
Back to main news page

© Datateam Business Media Limited 2012. DIY Week.net news articles may be copied or forwarded for individual use only. No other reproduction or distribution is permitted without prior written consent.