People News
Published on 12 - January - 2012
LOFA donates £5k to Greenfingers
The Leisure and Outdoor Furniture Association (LOFA) council has presented a cheque for £5,000 to Greenfingers, a charity dedicated to creating gardens at children's hospices nationwide.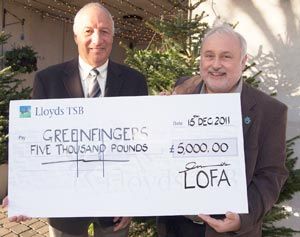 Eric Hopper, chairman of the LOFA council, presenting £5k cheque to Peter Field of Greenfingers
The Chichester-based group awarded the money to assist with Greenfingers' charity work.
Chairman of the LOFA council Eric Hopper said: "We were very keen to support a charity this year and we considered a few but picked Greenfingers to receive our donation. Its work creating gardens at children's hospices is fantastic and a great example of what can be done to help those less fortunate than ourselves.
"We have also offered Greenfingers a stall at our successful annual trade show SOLEX (Summer Outdoor Living Exhibition) in Telford free of charge as another opportunity to promote the charity."
Formed in 1967, LOFA offers membership to all UK companies manufacturing garden furniture, barbecues, hammocks, parasols or soft furnishings.
Greenfingers' director of marketing and fundraising Deborah Skillicorn thanked LOFA and added: "The money will make a significant contribution to our work creating magical gardens at children's hospices nationwide.
"The gardens are designed to help the children and their families and friends during a very emotional and difficult time."
The charity was launched in November 1998 by a group of volunteers drawn from all sectors of the gardening industry. To date Greenfingers has created 34 gardens.
Back to main news page