News
Published on 12 - December - 2011
Tesco launches boiler installation service
Supermarket giant Tesco has launched a new boiler installation service in partnership with heating company Enact Energy.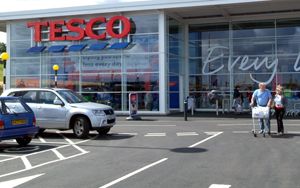 The retailer will offer Worcester Bosch boilers, and will also provide a service to upgrade existing boilers to a higher efficiency model. The service will initially be for customers using mains gas, which makes up 85% of all heating systems.
Prices for a fully installed new boiler start from £1,999 including VAT.
Tesco is also offering free loft insulation with the installation of a new boiler to a limited number of customers. The offer, which could see customers save up to £175 per year on heating bills, will be offered on a first come first served basis until the end of January.
Comments
---
11/11/2013 8:58:00 PM
boiler installation
By Lee Williams
Hi im a heating installer from rhyl north wales do you do eco boiler work or green deal
Cheers
Lee
Elm plumbing and heating Ltd
---
10/11/2012 1:55:00 PM
Tesco launches boiler installation service
By Maurice Mudd
Just to reply to Daryl Govan - Enact Energy ; Odd that a Local heating engineer self employed one man band is not welcome to apply to be an installer with your company : And Worcester Bosch Local heating engineers have supported your products and service for years, how about a little support in return?
---
7/15/2012 8:45:00 PM
Make my life hard
By Disapointed local worcester installer
I started my buissiness last year and because of people like tesco and BG i cant effectively advertise anywhere! They have totally monopolised all internet advertising making it imposible for me. What chance do small businesses have! Just offering there services on fianance will make them sales making people pay twice for one service! Hopefully people will see this and support small local businesses. Sometimes you feel like giving up! I feel let down by worcester after deciding to specilize in there boilers. Thanks!
---
3/22/2012 11:27:00 PM
Tesco/Worcester alliance
By Anthony
From a corporate perspective this makes sense, Worcester access all of tesco customer base for potential trade, tesco offer financial incentives, club card points etc. and make the customer feel that 'every little helps'. However, the customer must get intelligent and ask if they will actually get a quality installation, will the installer have any motivation to do a good job which may lead to further business through additional work or word of mouth? Ultimately will the cost to the local economy be too much to bear? Enact are looking for companies with 5 installers - get real! Most SME's can't sustain those numbers of employees, much less work over a large geographical area, this is heading toward disaster for both companies with loyal installers seeing the light and realising that you are the 'every little helps' sacrifice that will line the shareholders wallets. Installers must now ask if Worcester are a company worth their business.
---
3/15/2012 11:14:00 AM
Shame on you.
By Peter
Very very sad day. I'm an acreditted installer andI've promoted Worcester for the past 40 years as a quality boiler and Manufacturer not anymore. Shame on you! you forget the times when installers supported you sat at your seminars while you promoted your goods and taking up our time and giving you feed back. Your Marketing of products has been fantastic over the years and I liked being part of the promotions but is it greed that has crept in is there a new boy or girl on the block who is trying to impress? Well I'm not impressed.
---
2/15/2012 7:53:00 PM
By rob
once again internet rubbish based on trade counter chatter rather than fact, has anyone asked Worcester about this - cos I have, and plain and simply it s a good thing that a company using Tesco as a trading partner has decided to use a top uk brand (as the boilers are made in Worcester). The company handling to installs for tesco are using LOCAL Worcester installers to do the work, with the installers buying the boilers from their local merchant not direct from Worcester or supported by Worcester. So I can t see why this would alienate the merchants or hurt those who have fitted worcesters for years.....So good news for local installers and merchants, if only people asked when there were not sure rather than talk rubbish!!!!!
---
2/13/2012 6:00:00 PM
Not Again
By Martyn
This is just another example of the retail giants taking over our lives, Tesco and Worcester should be ashamed of themselves, I was always a Worcester installer about 6 per month I will be going elsewhere, if they are going to jump in to bed with a retailer in the name of profit, Boycott Tesco that's what is required, but I'm also a realist so that's never going to happen.
Benefits still pay! My work soon may not!
---
2/1/2012 4:37:00 PM
Worcester
By Chris
Excellent news to start 2012 with. Now Worcester are in bed with Enact & Tesco the true local installer is now finally encouraged to look and offer alternatives. Having been forced to sell Worcester products for the last 30 plus years simply because of a well known brand name we now have the opportunity to make homeowners more aware of alternatives for boilers that can be consider better than Worcester (especially concerns such as restrictions in current water ways and the heat exchanger).
---
1/31/2012 9:43:00 PM
Great for the market
By Tom
I am a local installer. What great news for the stale market place. It's about time we had some assistance in making consumers aware of the importance of heating and saving energy costs.
---
1/31/2012 7:25:00 PM
Worcester Boiler -Time to change!
By sam
You can even buy a Worcester boiler a German brand from B & Q no wonder the independent shops are suffering.....Support the British company's such as Ravenheat
---
1/27/2012 5:39:00 PM
Sad day
By Wai
As a Bosch installer I feel this is a stab in the back to a company I have pushed for 18 years maybe the straw that breaks this camels back
---
1/24/2012 9:20:00 AM
Tesco launches boiler installation service
By Daryl Govan - Enact Energy
If there are any installers interested in working with Enact Energy, with regards the Tesco Project and others. Please feel free to get in touch with us. We ae always interested in talking to Installers any where in the country. If you are Gas, lpg or MCs approved, and have a track record of quality installations, with more than 5 installers,and can cover several postcode areas, please give us a ring.
---
1/18/2012 11:00:00 AM
Tesco Worcester
By Paul
Tesco do not have their own installation teams and have therefore have set up a scheme via Enact to work with 'local' labour based on a schedule of rates. The starting price is exactly that, will it end up as a BG price!?!? Due to this I believe that this will have little to no impact on localised installers, may even aid some who work with it. Looking at BG as the UKs biggest installer and advertiser of heating requirements to the consumer, the industry looks forward to their advertising as it generates general consumer interest. Will this not do the same and help with our industry.
---
1/4/2012 4:06:00 PM
worcester boilers
By neil
having fitted hundreds of worcester boilers, this is a sad day for all the worcester approved specialists installers, "time to move on to a new product"
---
12/21/2011 10:25:00 PM
By Installer
this boiler manufacturer should be supporting the trade not the retailer remember who helped you build your business it was not supermarkets
---
12/20/2011 11:58:00 AM
Boiler Installations
By Mike Donnelly
We are a local installer and we would welcome this idea as it is time someone took on British Gas and the other big players. This might be a breathe of fresh air to the market place as long as we get some work?
---
12/19/2011 2:11:00 PM
they are so greedy
By steve
they are destroying the life's of people who run small businesses.
who will install the boilers?
it will be contracted out to people with little experience who'll work for nothing!
---
12/15/2011 1:28:00 PM
Thin end of the wedge
By Livingstone
Yet another hit to the local high street by the greedy nationals. As a local gas engineer, times are tough enough without supermarkets trying to take our business. All they will do, like BG, is farm out the work to the cheapest contractors and the customer will end up with an expensive installation of moderate quality. By all means, feed the boated multi-nationals and starve your own community . . . .
---
DIYWeek.net does not edit comments which are submitted directly by our users to express their own views. Please report abuse of our comment system here.
Back to main news page

© Datateam Business Media Limited 2011. DIY Week.net news articles may be copied or forwarded for individual use only. No other reproduction or distribution is permitted without prior written consent.