News
Published on 23 - November - 2011
Kingfisher chief to lead new green taskforce
Kingfisher group chief executive Ian Cheshire will head up an independent task force aimed at finding new opportunities for UK businesses to drive green economic growth.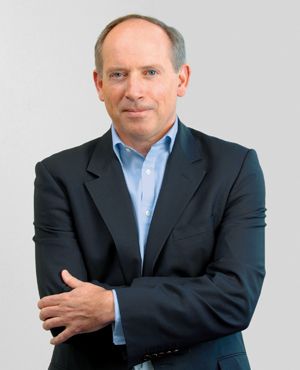 Launched today, the Ecosystem Markets Task Force (EMTF) will review the opportunities available to UK businesses that could help them develop green products, services and markets which are concerned with protecting the environment.
The task force is made up of industry leaders and experts from a wide range of sectors, from banking to building, who will look for ways that companies can improve both the environment and their bottom line.
The Task Force will report back to the Government in early 2013 through the Green Economy Council.
Both Ian Cheshire of B&Q parent Kingfisher and the Rt Hon Caroline Spelman MP, Secretary of State for Environment, Food and Rural Affairs, will speak at the launch.
Mr Cheshire commented: "The challenge for the task force, as I see it, is to find new ways for business to profit from valuing and protecting nature. It is an opportunity for business to contribute and make recommendations to the Government and to shape the agenda. We need to be radical and innovative in our thinking and explore areas where businesses can gain real, measureable benefit as the UK moves towards a green economy."
The Secretary of State welcomed the launch of the task force and said: "It is estimated that UK businesses could save around £23bn each year by using raw materials, energy and water more efficiently. If businesses can reduce waste, develop sustainable alternatives or recover value from existing products they will not only help their bottom line, but also benefit the environment.
"The Ecosystem Markets Task Force, which begins its work today, will help UK businesses get ahead of the curve and help us grow our economy more sustainably. I look forward to engaging with them on the business opportunities there will be for greener businesses and I look forward to reading their analyses."
Comments
---
06/12/2011 12:21:00
So Why B&Q??
By Jk
Sounds as if you don't need B&Q then, and perhaps they feel that there would be too many competitors in the marketplace already. Exclusive deals are the way foward with the big boys.
---
05/12/2011 12:10:00
Chemical & Airasol Manufacturers
By Lloyd Ashford-Thom
Comercialy viable product, the product has been sold by us for the past 18 month, it is sold not only in the UK but in China and soon to be sold in India and the US, it has a around about 150% uplift on the trade price,and has done over 6,00000 in the past year.
---
05/12/2011 10:23:00
Price
By JK
Maybe as far as they are concerned it is not a comercialy viable product.
---
30/11/2011 11:43:00
New Green Taskforce
By Lloyd Ashford-Thom
Myself and my company have offerd Kingfisher a product that would save 1500 litres of water per 750ml of product to wash car / vans ect, this product has been and is been sold on qvc and in many large retail shops, but when approched no one in the Kingfisher group seems to be intrested? we have many more products that are eco. and we are the manufacturers.
---
DIYWeek.net does not edit comments which are submitted directly by our users to express their own views. Please report abuse of our comment system here.
Back to main news page

© Datateam Business Media Limited 2011. DIY Week.net news articles may be copied or forwarded for individual use only. No other reproduction or distribution is permitted without prior written consent.