Product News
Published on 22 - September - 2011
Dunlop sets the standard
Dunlop's Standard Set Plus floor and wall tile adhesive is a water-resistant powder-based tile adhesive for interior and exterior areas, including patios.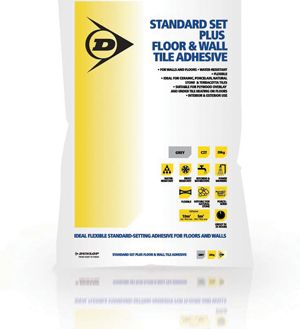 Mixed with water, it is suitable for fixing floor and wall tiles including porcelain, fully vitrified, mosaics, quarry, brick slips and stone claddings.
Available in grey and white 20kg bags, tiles can be grouted 24 hours after fixing. Being cement-based, the product is not fully waterproof so a tanking membrane such as Dunlop's shower waterproofing kits should be used on water-sensitive backgrounds.
For more information contact:
Dunlop Adhesives
Back to main news page