Product News
Published on 8 - September - 2011
New concept from Smart Solar
Smart Solar is launching a brand new concept in garden decor at Glee with its Aruba Solar bistro set.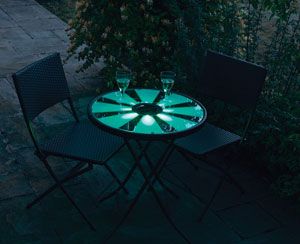 The bistro table has a glass top with a frosted design that lights up with either eight colour-changing or eight white LEDs during darkness.
The solar-powered LED integrated lighting and solar module fits in the centre of the table, providing outdoor ambience for patios, decks and balconies.
Made from dark brown faux rattan with a steel frame, the table and the two chairs are suitable for prolonged outdoor use. The chairs and table can be folded away for easy storage.
For more information contact:
Smart Garden Products Ltd


Back to main news page