News
Published on 25 - August - 2011
Floors-2-Go in pre-pack administration buyout
The Birmingham flooring firm has been acquired by a newly incorporated company headed by former Floors-2-Go directors David Vizor and Parjinder Sangha. It is the second time in three years that the firm has entered administration.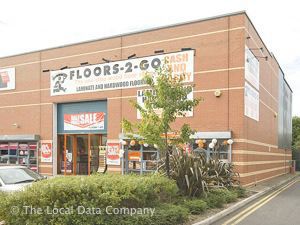 Following the appointment of administrators Senate Recovery, 53 Floors-2-Go stores have been closed, resulting in the loss of 192 jobs. However, Senate has secured a sale for the continued trading of 35 stores plus the jobs of 162 Floors-2-Go employees. The purchaser, Nixon & Hope was formed just this month by former Floors-2-Go directors Parjinder Sangha and David Vizor.
Senate director Jeremy Bowden said in a statement to Insider Media: "We have worked hard with the company, its directors, other parts of the Senate Group and an external funder to achieve this deal, despite hostile economic and trading conditions."
However, Mr Bowden did add that almost 200 jobs across the UK would go. There was no answer from the Floors-2-Go head office in Newtown, Birmingham today and Mr Bowden was unavailable for further comment.
The acquisition is believed to have been funded by the Hodges family, who founded Floors-2-Go in 1999. Brothers Robert and Richard Hodges also ploughed more than £3m into the ailing retailer when it went into administration in 2008, buying back 80 Floors-2-Go stores with the help of investment firm Hotbed.
Former B&Q chief executive and chairman Jim Hodkinson was appointed non-executive chairman of Floors-2-Go in January this year. However, he confirmed this morning that he resigned from his position on the Floors-2-Go board at the beginning of May. He also stepped down from the Tiles-2-Go board, owned by the same firm. Mr Hodkinson declined to comment further.
At the time of Mr Hodkinson's appointment, the Floors-2-Go board announced an ambitious expansion plan to open a further 60 stores. Insiders have suggested that Floors-2-Go looked to expand too quickly and simply ran out of money, resulting in its latest administration.
The Hodges founded Floors-2-Go in 1999, expanding from a single site to more than 100 retail outlets by 2004. The business was then bought by a small investment bank, floated on AIM, and bought by a private equity firm.
Comments
---
30/07/2012 07:01:00
Vulnerable
By Mr Unhappy
Can anyone supply up to date information on how the sales staff were pushed to get sales when there was no intention to suuply the goods ?
---
18/10/2011 20:38:00
floors 2 go phoenix company
By ex employee floors 2 go aka floor my home
disgruntled staff and creditors of F2go see senate admimistrators report on the creditgateway.co.uk website password fm58kn32dt creditors meeting at hotel in great barr 2/11/11
---
12/10/2011 21:11:00
Is this true????
By John
I purchased flooring from this company about 4 months ago, I only got about half of the amount i needed as they had to order the other half!! Well when I called a few weeks later to confirm my order had arrived I was told it had been in stock but had been sold to someone else however, by the end of the week mine would be ready for collection!!!! If course when I went back I was told the company had gone down and no longer had my products. I have now been sent to a new store who are apparently the new owners and been told I will get the rest of my flooring however, the dates keep fluctuating. When I confronted them quite sternly I was told they were not obliged to give me my products and if I went through the legal channels I would only get 30% back of what I paid and it could take up to 2 years!!!!! IS THIS TRUE?
---
18/09/2011 23:20:00
I was caught up in the mess
By Conned customer
I am one of the very sorry customers who is waiting for a refund of 1.6K for flooring which it appears was never in stock. It doesn't look very likely that we will get our money back. My partner and I were totally let down and went out to buy flooring from another company not knowing that Floors-2-Go were going into administration. We now owe that money as we took a short term loan and don't know what we are going to do. Should have smelt a rat because we were fed so many lies and nothing added up. I wil do my damned hardest to ensure that no-one in my local area ever shops there again. It is one of the stores which has been kept open.
---
04/09/2011 23:35:00
Floors2Go collapse yet gain
By Allan
Having been previously employed by these cretin, I can tell you that leaving them was the best move I ever made. The Hodges were plainly incompetant - as were most of their quislings. I find it funny that the new keepers of the flame were just as culpable in the eventual downfall as the owners were and fully expect them to fail miserably. To all the staff who have lost their jobs - practically any employer in Britain is better to work for that Floors2Go; so dont worry to much.
---
01/09/2011 11:30:00
Dont Supply
By Tony
If I was a supplier I would not let these companies have have goods unless it was on pro forma
---
01/09/2011 03:40:00
see you at acas for unfair dismissal
By defrauded floors 2 go employee
havent you heard of TUPE nixon & dope aka f2g you acquired all of your so called redundant staff in your behind the scenes fraud by failing to make us redundant properly and getting your Inosvency practioner to make us redundant after the event won't get you off the hook even though he sent us the corrupt Insolvency services forms to rip off the tax payers in the statutory government redundancy payments scheme thinking we were that desperate and would sign away our rights when you robbed us of our lawful pay and unfairly dismissed us AFTER THE EVENT by which time schmucks you were our new employers see you in court. we might use our money and buy the company and run it properly and pay the bills on time how much did you pay yourselves to acquire your own company did you get it at a preference was it undervalued as you don't seem to have filed any accounts for 2 years will your IP be reporting any of the directors to the Secretary of State or all you all in bed together ripping off joe taxpayer??????????????????
---
31/08/2011 22:36:00
its not over yet
By senior manager
as a senior manager i saw what was going on and contact still within the business say that the remaining 38 stores will sell through the stock and then colapse again, remaing staff where not paid their months salary today as promised.
Please customers, dont buy , you will lose your money, someone should put the hodges brothers address's on the net so customers can visist them and ask for their money back. Its only a matter of time Mr hodges before you are truly held accountable and unable to hide behind sham pre pack companies and patsy directors.
---
31/08/2011 00:51:00
discusting
By redundant
As an ex staff member, the way they treat staff and customers is discusting. In the last few months they didnt send any stock to any stores yet urged and pressured staff to sell to whoever they could reassuring us that stock would come in..knowing full well that it was a lie and now have been told that the customers who did place oreders, some worth thousands of pounds will now not recieve a penny back.
Staff members have also been told that they will not be recieving the 2 months worth of wages they are owed. I hope the Hodges brothers get what is coming to them
---
26/08/2011 15:26:00
FRAUD!!
By Matt
This is pure fraud, to the poor staff who have been made jobless and customer who are owe money/goods! Why are the directors being allowed to do this AGAIN??
This is a blatant scam to avoid paying their bills and the only people who loose out are us normal guys!!!
---
26/08/2011 14:01:00
about time
By adam
about time they went out of business they should leave the trade to people who know what they are doing. buy from small local firm ,better service better products better all around.too many big boys ripping off the public.
---
25/08/2011 23:10:00
floors 2 go
By cheesed off
yes floors 2 go have let go nearly 200 people, me being one of them, they gave us no notice and nobody from the company has contacted us with any information regarding money owed, these people are ****
---
25/08/2011 22:09:00
again!!
By Ripped_Off
disgusting this was allowed to happen again, the only ones to loose out are cutomers and suppierls.
These pre-packs should be stopped..............
---
25/08/2011 21:20:00
it was going to happen
By jamie
this was inevtable, poor service, poor stocks and poor attitude to both staff and customers.
i give the company less than 6 months, to bad a name now, and sorry to say but word of mouth is against them.
---
DIYWeek.net does not edit comments which are submitted directly by our users to express their own views. Please report abuse of our comment system here.
Back to main news page

© Datateam Business Media Limited 2011. DIY Week.net news articles may be copied or forwarded for individual use only. No other reproduction or distribution is permitted without prior written consent.