News
Published on 9 - August - 2011
Landmark furniture store destroyed as retailers attacked in London riots
Croydon furniture store House of Reeves has been destroyed in a huge fire set off by looters in the third night of rioting across London.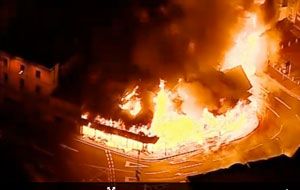 Reeves furniture store is destroyed by fire
The family-run store, which has stood on the site on Reeves Corner since 1867, has been completely destroyed.
Retailers in several London suburbs have been the victims of looting and arson over the past three nights, with rioting also spreading to other UK cities including Birmingham, Bristol and Liverpool.
Stores including Currys in Brixton, Carpetright in Tottenham and Debenhams in Clapham Junction suffered extensive damage from looters, with people walking out carrying armfuls of stolen stock.
While many big businesses were targeted, independent stores were also attacked, putting several smaller shopkeepers out of business entirely.
British Retail Consortium director general Stephen Robertson condemned the attacks, saying: "I deplore the violence and property damage inflicted by these criminal actions. I have the greatest sympathy for those who've lost businesses, staff whose jobs are now in jeopardy and customers now without local services.
"There may be genuine economic or community relations grievances in these areas but they will not be helped by torching shops. Retail is at the heart of thriving communities. Clearly, with high streets under pressure anyway, at least some of the businesses destroyed will not be able to re-establish themselves, causing long-term damage."
The Reeves family has created a
Facebook page
for those wanting to donate and support the restoration of the furniture store. A comment from one supporter said: "We are all devastated for you, your family and the rest of your staff. Such a mindless act on one of Croydon's famous landmarks and family businesses."
Has your business been affected by the riots? If you would like to share stories or images please get in touch at diyweek@fav-house.com.
Comments
---
8/12/2011 12:52:00 PM
Reeves fire
By Lesley Watson
While watching the news coverage I felt physically sick. What kind of country are we living in when human beings cause such misery on fellow human beings. No punishment would be strong enough. I hope the family can try and move on and rebuild their lives. So sorry for anyone who has been targeted by these vile criminals.
---
8/11/2011 12:51:00 PM
Reeves Store
By Colin Nutley
Reeves store has survived two world wars, and no matter what it takes we must find a way to rebuild it and restore this part of our heritage! I have no money, but I do have skills and tools to assist if anybody else is willing to offer help?
---
8/10/2011 11:14:00 AM
House of Reeves Fire
By Geraldine
I feel so sorry for the Reevees family,my heart goes out to them & just wish I could help out in anyway.
I do hope they can have a positive move on from this horrid event.
---
8/9/2011 1:17:00 PM
London riots
By vin vara
We had our windows smashed at our Queensway branch last night.
Also tried to break into our Victoria branch
Whar are these people going to get out of this, only god knows
at present in waterloo it like a ghost town < open shop with shutters down and all at panic stations
---
DIYWeek.net does not edit comments which are submitted directly by our users to express their own views. Please report abuse of our comment system here.
Back to main news page

© Datateam Business Media Limited 2011. DIY Week.net news articles may be copied or forwarded for individual use only. No other reproduction or distribution is permitted without prior written consent.