News
Published on 8 - August - 2011
Dobbies accused of breaching planning rules
Garden centre chain Dobbies has been accused of breaching planning regulations at its Livingston centre by West Lothian Council.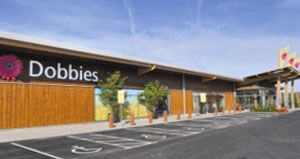 The store was served with a planning contravention notice (PCN) just a fortnight after it opened in March this year, accusing it of selling too many goods unrelated to garden centre retail.
Dobbies had its initial planning application turned down by West Lothian Council on the grounds it would have a negative impact on local business. It was eventually passed on appeal, under strict conditions including keeping non-garden centre retail goods to 10% of the floorspace.
The council said the outlet was selling six times more retail goods than was initially agreed.
No outcome has yet been announced, although Dobbies says it replied to the notice within 21 days to inform the council that it was currently undertaking an independent audit at the store, conducted by property agency GVA Grimley.
Dobbies has confirmed to
DIY Week
that the audit has since been completed, and maintains the store has not breached conditions.
Dobbies chief executive James Barnes said: "We don't believe we are in breach of planning, and we are very keen to meet the West Lothian Council to take them through it all to help them to understand what we are doing.
"The Council have indicated the goods we are selling are outwith the planning condition we signed up to, and they are entitled to suggest that. We are of a very firm opinion that is not the case."
However West Lothian Council says the situation is still ongoing. A council spokesperson said: "West Lothian Council carried out an initial assessment prior to serving the PCN which concluded that, in the council's view, the limit on the selling of non-garden related goods was likely to be being breached. A resolution to the suspected breach of planning control at the site has not reached its conclusion so, to date, there is no outcome. We will continue to meet with representatives from Dobbies to attempt to resolve the current planning issues."
Comments
---
11/08/2011 17:54:00
dobbies
By mike f
We should expect nothing less from a "Tesco" company. They think they are big enough to get away with anything they want and treat Local Authotities with scorn.
---
10/08/2011 07:38:00
Dobbies
By Chester
Well Done to West Lothian Council
---
DIYWeek.net does not edit comments which are submitted directly by our users to express their own views. Please report abuse of our comment system here.
Back to main news page

© Datateam Business Media Limited 2011. DIY Week.net news articles may be copied or forwarded for individual use only. No other reproduction or distribution is permitted without prior written consent.