News
Published on 7 - July - 2011
Sharps is saved, but Homeform administration makes 557 redundant
Sharps Bedrooms has been sold back to Homeform Group owner Sun European Partners, after Homeform appointed administrators Deloitte yesterday.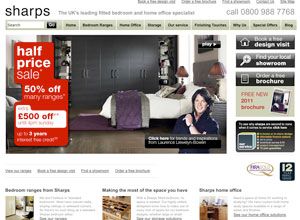 A statement from Deloitte said the company, which trades under the brands Moben Kitchens, Dolphin Bathrooms, Sharps Bedrooms and Kitchens Direct, had "experienced significant difficulties due to the current economic climate, particularly in the kitchen and bathrooms market".
Homeform's other operations have been closed down, with the loss of 557 staff, although the administrators continue to market the brands for sale. 24 employees have been kept on while matters are finalised.
Homeform owner Sun European Partners has bought back Sharps Bedrooms through a new company, Sharps Bedrooms Limited, safeguarding 627 jobs and ensuring customers who have paid a deposit for a Sharps bedroom will have those deposits honoured.
Sharps managing director Kevin Smith said: "It is 100% 'business as usual' for Sharps. This is and always has been a successful and market-leading business and we look forward to developing it further to make Sharps even better."
As part of the transaction, 96 of Homeform's 160 showrooms and concessions have been licensed to Sharps Bedrooms Limited, and the new business will be headquartered from the Sharps factory at Bilston.
Joint administrator Phil Bowers said: "The business has suffered from the extreme pressures currently hitting retailers of high value items, as customers shy away from big ticket purchases such as kitchens and bathrooms... We are now in urgent discussions with the key stakeholders and interested parties of Moben, Dolphin and Kitchens Direct in an attempt to sell all or parts of the businesses. We have written to all the employees with briefings to help them understand their position."
Comments
---
7/8/2015 2:23:00 PM
Sharps Bedrooms
By Julie Tyrrell
I had an appointment with a sharps designer yesterday. He walked in and said sorry, can't help you, we have a minimum spend of 1500.00 and yours would not come to that, and left. Customer service eventually rang me after 2 phone calls and confirmed this, although nothing had been mentioned when the appointment was booked. Obviously making too much money to bother with an order worth 1100.00
---
5/1/2015 2:42:00 PM
Problem with the doors
By Jules neary
No response to my e mails and wondering who else to contact.
---
3/15/2014 9:01:00 AM
current conplaint
By d bailey
I am having great difficulty in having a problem rectified. Under health and safety my new wardrobes are inadequate and unsafe. Who shall I contact next? I want this removed from my home and a full refund of my hard earned cash!
---
12/2/2013 8:44:00 PM
Moben brand name
By James Fox
Can anyone tell me if the MOBEN brand name was sold by the administrator .
---
4/21/2013 7:02:00 PM
Sharps
By John McKay
Are guarantees given by sharps furniture still valid in the new company
---
DIYWeek.net does not edit comments which are submitted directly by our users to express their own views. Please report abuse of our comment system here.
Back to main news page

© Datateam Business Media Limited 2011. DIY Week.net news articles may be copied or forwarded for individual use only. No other reproduction or distribution is permitted without prior written consent.