News
Published on 25 - May - 2011
UPDATE: Focus chain to close
All Focus stock is to be liquidated and the remaining stores closed. A closing down sale started this morning.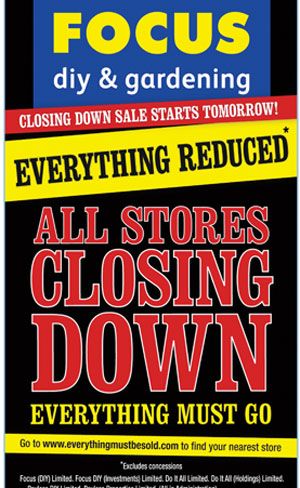 The mailshot sent out to Focus customers this afternoon advising them of the closing down sale
In a statement released this morning, Ernst & Young announced the appointment of retail consultants Gordon Brothers to "advise on the sale of all stock of the Focus DIY stores, with a view to closing down the retail chain. The closing down sale begins this weekend."
[In actual fact, the sale starts today. A mailshot announcement to Focus shoppers emailed out yesterday afteroon. It advised them that the closing down sale was to start today and that all stores are closing.]
Despite securing the sale of 55 Focus stores, no buyer has been found for the remaining 120 or so stores
Joint administrator Simon Allport said: "We have been working hard to sell the business as a going concern and to maximise value for creditors. While we have been successful in securing up to 900 jobs from the sale of 55 stores in three separate deals, finding a buyer for the whole of the business has not been possible."
Ernst & Young said that negotiations are ongoing regarding the sale of a number of other stores, but that "the stock liquidation is likely to result in a number of Focus stores closing with remaining employees going through a redundancy process."
The remaining stores employ an estimated 3,000 people.
Comments
---
02/06/2011 15:32:00
sales
By diyman
Close down Sales exceed expectations
no communications coming down to stores
But no close date given - threat of notice period being the issue?
Staff also worried about pensions that have just been froze-and to whether the pensions fund has been pilfered in the past...
---
27/05/2011 12:59:00
re .on the last bend..
By yvonne
I agree with that coment by quizzical! lol .. made me laugh at a time when i feel like walking out of my job at focus because its so depressing seeing our stores going down like this. the staff have worked so very hard to try and keep it afloat..worked extra hours for no extra pay etc..i know one thing for sure..it was a waste of time cos weve had the rug took from under our feet.
---
25/05/2011 17:48:00
On the last bend
By Quizzical
So the all stores are closing in 5 weeks, and it's payday tomorrow for all the colleagues, so fongers crossed it hits the bank accounts otherwise it'll be a very short lived sale!!
---
DIYWeek.net does not edit comments which are submitted directly by our users to express their own views. Please report abuse of our comment system here.
Back to main news page

© Datateam Business Media Limited 2011. DIY Week.net news articles may be copied or forwarded for individual use only. No other reproduction or distribution is permitted without prior written consent.