News
Published on 20 - May - 2011
B&M Retail buys 11 Focus stores
Retail chain known as B&M Bargains has agreed to take on the leases of 11 Focus stores and their employees.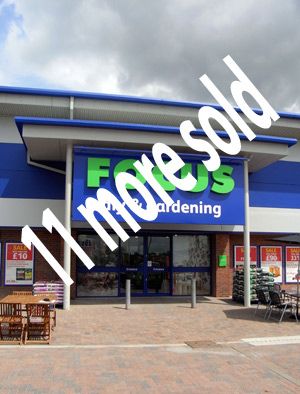 B&M Bargains has snapped up 11 Focus stores
Despite B&M joint md Simon Arora saying the retail chain had no plans to acquire the stores from administrators, Ernst & Young has today confirmed that B&M has now taken on 11 Focus stores, as well as associated members of staff.
Mr Arora told DIY Week yesterday that B&M planned to wait until the leases had been handed back to landlords and would then pick up the vacant property to help expand the company and reach its target of a further 100 stores this year.
However, joint administrator Simon Allport said: "We are delighted to have completed another sale of Focus stores, securing a further 211 jobs."
B&M is the latest in a line of retailers to have snapped up Focus real estate following its demise earlier this month. B&Q parent Kingfisher announced plans to acquire 31 stores for £23m just days after Focus appointed administrators, while Wickes plans to take on 13 outlets for £8.4m. The Range owner Chris Dawson has also expressed an interest but is yet to agree a sale on any Focus real estate.
Comments
---
27/05/2011 13:04:00
ignorant..
By yvonne..
funny isnt it..in all the corespondance from focus( which isnt much i can tell you) not one even says we are closing..the latest one from the other day says that earnest and young are finalising their plans for the stores..nothing about closing!!!!
---
26/05/2011 14:50:00
By focus employee
No mgmt buyout. In liquidation. Focus not getting sold as a going concern.....still no notice other than closure notice,alas still no idea when the final day will be...and no redundancy payout either!..guess I better watch sky news for latest info
---
25/05/2011 23:59:00
Payless
By diyman
What happens to the Payless name ? surely supermarkets would want to pay millions to own this name alone !!!
---
25/05/2011 08:30:00
focus jobs
By aynon
I would like 2 congratulate sky business 4 reporting the truth that the administrators have called in Gordon brothers 2start store closures although neither has the guts 2 confirm it. It makes me angry that after only 2 wks they throw in the towel and put us all on the scrapheap. There r people who have given 25-30+ years service 2 this company and 4 what they won't even get their long service awards. Nice thanks 4 all their had work and loyalty. Their only reward 2 be thrown on scrapheap with the rest of us. What a kick in the teeth. Its disgusting
---
24/05/2011 22:09:00
focus
By steve
Still no word to all the colleagues of focus re their jobs???? shouldnt we have had notice by now?? Typical focus dont care!!!!!!
---
24/05/2011 08:42:00
focus jobs
By aynon
I work as a cleaner in a focus store who when made redundant won't get any money from the state as i have a 2nd job and my husband has a small pension as well as a job 2 keep a roof over our heads. Can someone please tell me while i look 4 another job how we r supposed to cope along with other focus staff in similar positions. I bet the bosses at top of focus don't have 2 worry
---
23/05/2011 21:32:00
FLP2
By Source
FLP2 is a subsidary where the board of directors sit, interesting.
---
23/05/2011 19:21:00
Parent company?
By focus employee
diyman you name flp2 as our parent company......who are they?
---
23/05/2011 16:22:00
FOCUS DIY
By DIY WOMAN
THIS IS THE BILL GRIMSEY CONSORTIUM AND WILL BE THE MGMT BUYOUT NAME OF THE COMPANY I SUSPECT..?MAYBE EVEN GREATMILLS
---
20/05/2011 17:10:00
focus Diy
By diyman
Gordon brothers called into look at rest of estate ..liquidation? Why is parent company flp2 not in administration??
---
DIYWeek.net does not edit comments which are submitted directly by our users to express their own views. Please report abuse of our comment system here.
Back to main news page

© Datateam Business Media Limited 2011. DIY Week.net news articles may be copied or forwarded for individual use only. No other reproduction or distribution is permitted without prior written consent.