News
Published on 17 - May - 2011
Wickes buys 13 Focus stores
Administrator Ernst & Young confirms it has agreed to sell up to 13 stores and transfer all associated employees to the Travis Perkins-owned DIY chain for £8.4m.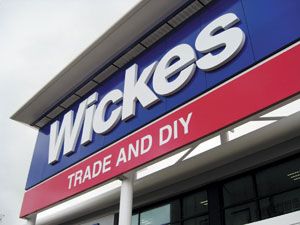 All of the acquired stores are to be converted to Wickes branches by the end of the year, extending the DIY chain's portfolio to 216
Travis Perkins chief executive Geoff Cooper said: "The acquisition of these 13 stores, cherry picked from over 100 potential locations, further expands our Wickes business and will help us to continue our gains in like-for-like and total market share. We welcome the colleagues in these stores into our Group and look forward to these stores trading successfully in the Wickes Format."
Joint administrator of the Focus group Simon Allport said in a statement today: "We are delighted to secure a sale for these stores and to save the jobs of all 345 associated employees. We continue to trade from all 178 Focus stores in the UK an are in detailed discussions with a number of interested parties to seek further sales across the store portfolio."
Mr Allport added: "Since the date of the administrators' appointment, stores have been trading at record levels as we have been able to offer very competitive prices across the full product range. We are grateful to all the Group's loyal customers, employees and suppliers for their continued support."
Comments
---
19/05/2011 22:36:00
Common Sense
By still there
I feel really sorry for those staff who at the end of July will be having to reapply to work in the same store, albeit a different company, uniform and shopfit.
Will they take on any clown or have some common sense to take the old staff on?
Everyone still remember those staff in the remaining stores who STILL DONT know whether they will have a job in a few weeks - come on E&Y your getting a serious payout - surely its time to come clean and be honest with the staff!
---
19/05/2011 16:44:00
Slavery
By Diy dude
Shouldn't the current Tupe Regs apply to Focus staff??
---
18/05/2011 14:31:00
Slavery
By Quizzical
The slavery comment arose from the headline, which originaly said "Administrator Ernst & Young confirms it has agreed to sell up to 13 stores and all associated employees to the Travis Perkins-owned DIY chain for 8.4m." They have subsequently added the word transfer, I get out every so often, when the nice man in the white coat says he likes my crayon drawings!
---
18/05/2011 10:03:00
Get real
By As It Is?
Slavery? Ask the staff in the 13 stores if its Slavery. There is a recession and having a paid job is better than not.
B+Q market leader?
Quizzical, you obviously don't get out much. Have you been shopping in B+Q or a Wickes store lately?
---
17/05/2011 23:49:00
Staff
By Peter
Great that Wickes have kept on the staff. It's a shame that B&Q don't have the same sense. It's bad when your employer goes bust but when a major company like Kingfisher seeks to circumvent TUPE, it's a sad day for ordinary staff.
Wake up Kingfisher, you know what is right
---
17/05/2011 14:56:00
slavery?
By Quizzical
great that they've sold the stores, but selling the employees, ............ that's slavery isn't it!
It's nice that one DIY retailer keeps experienced employees, on, come on B&Q, you're the market leader, show the same morality!
---
DIYWeek.net does not edit comments which are submitted directly by our users to express their own views. Please report abuse of our comment system here.
Back to main news page

© Datateam Business Media Limited 2011. DIY Week.net news articles may be copied or forwarded for individual use only. No other reproduction or distribution is permitted without prior written consent.