News
Published on 6 - May - 2011
The Range owner interested in buying Focus
The Range owner Chris Dawson has expressed an interest in purchasing Focus DIY, which entered into administration yesterday.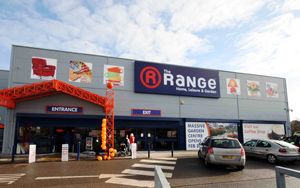 Mr Dawson, who founded the Range 22 years ago, says a deal could create more than 5,000 jobs and would help continue the chain's rapidly progressing expansion program.
Focus DIY entered administration yesterday after struggling against low consumer confidence and a weak housing transaction market. The business has 175 stores across the UK and employs 3,920 staff.
The Range currently operates from 51 stores and is estimated to be worth more than £300m, according to the company. It posted profits of £20.3m for the year to January 2010 and has previously set a target to reach 100 stores by 2015.
Mr Dawson said: "It would be a deal that would create and save jobs and help the country's economic recovery. I have a proven track record that I will do these kind of deals if people are serious and sensible."
Comments
---
28/06/2011 18:58:00
Range taking on Focus Stores?
By Quizzical
Looks like Chris Dawson is waiting for the chain to close its remaining stores so he can get them cheaper direct from the landlords and not have to TUPE the staff over, that's business men I guess. Well done to both Wickes and B&M for doing the decent thing, I know which companies I'll be shopping with when I need DIY/household products in future.
---
15/06/2011 16:29:00
The Range
By Ian
Is there still a buyer out there taht will save our jobs ,I agree Great Mills was a "great" company to work for, who valued its staff xmas bonus and a free turkey for xmas dinner just some of the perks. However it lacked buying power and probably would have gone if it were not for focus diy a long time ago, Bill Grimsey taking 750k per year outta the business has not helped and the rest of the fat cats around the board table taking thier cream have left the company in a shambles. The Range are hopefully still in there and surley will show the Focus X board how to run a business and value its employees, come on the Range.
---
09/06/2011 23:22:00
Focus took the Great out of Great Mills
By Great Mills
Below is a very good account of how it was. We were all under the impression that we were going to come out of these tough times and arrive in a better place. We were even blamed for the empty shelves and told to go and collect stock that was never available to be delivered. Alan Sugar would have fired the people that run Focus a long time ago if they were on the apprentice.
---
17/05/2011 19:16:00
Focus
By Steve
I Agree with Yvonne re Great Mills i worked for them for 15 years before Focus took over, GM where a superb company to work for and thought alot about their staff, Focus treated staff appallingly, customer service suffered through lack of staff and they stripped off all the assets.
---
12/05/2011 20:36:00
stressed..
By yvonne
in reply to the comment by 21years of hurt. I worked originally for Great Mills-before it got took over by Focus. That company was excellent to work for. When Focus took over, me, and a lot of my colleagues lived in hope that it would get better, which of course, it never did. Not many people can just walk out of a job without another one to go to and i was no exeption. A lot of my colleagues have also worked there for a long time and we feel like a little family! we have supported each other through some pretty tough times and we all had one goal which was to make our store a success.. and it was.
---
12/05/2011 13:04:00
Stressed
By 21 Years of hurt
Why on earth would you work for someone who you feel doesn't value you for 21 years?
---
11/05/2011 08:36:00
stressed
By yvonne
i have worked for focus for 21 years-originally great mills all those years ago. Focus as an employer has been the worst experience of my life. They are ruthless, and never, ever valued their staff. We have all struggled with the way of life in focus and its amazing that we are still trading in the stores, as we have had an enormous burdon put upon us consoleing these customers who have visited us for a refund etc.Absolutely shocking .
---
11/05/2011 00:19:00
Dam good staff
By happy trucker
I am an agency driver who for the last 2 months has delivered to Focus stores from their Tamworth NDC, it has been a pleasure to deliver to these stores where hard working staff have made my job so enjoyable, I sincerely hope it works out good for all of them.
---
10/05/2011 14:31:00
Goodbye focus
By chester
Good bye focus, Hello Wickes, maybe!!!
---
08/05/2011 21:37:00
Bring on the Range
By focus
If he can save OUR jobs then your more than welcome. Please do so as quick as you can before the money grabbers from E&Y destroy staff morale
---
08/05/2011 09:33:00
By jane
it would be nice if this company saves jobs of exsiting staff shame b&q dont say the same
---
07/05/2011 12:42:00
Jobs
By Dave
It would be good as an ex employee of do it all thru to Focus to have the range take over, there is a very well trained talent bank in Focus that could help the range become what Focus initially couldnt which was great products in quantity at great prices, and saving 4000 odd jobs in this climate deserves a knighthood!!!!
---
DIYWeek.net does not edit comments which are submitted directly by our users to express their own views. Please report abuse of our comment system here.
Back to main news page

© Datateam Business Media Limited 2011. DIY Week.net news articles may be copied or forwarded for individual use only. No other reproduction or distribution is permitted without prior written consent.