News
Published on 5 - May - 2011
UPDATE: Focus appoints administrators
Focus DIY has entered administration, appointing Ernst & Young this morning after defaulting on its credit facility and announcing its intention to file yesterday.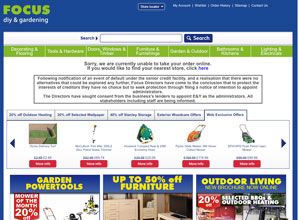 Focus announced its intention to file for administration on its website
Simon Allport, Tom Jack and Alan Hudson from Ernst & Young have been appointed joint administrators and are hoping to sell the business as a going concern.
Mr Allport said: "Low consumer confidence and a very weak housing transaction market has impacted on Focus and placed considerable pressure on sales and margins. Despite management's actions to tightly control costs and restructure the operations, unfortunately it has not been possible for the business to continue to trade outside of insolvency."
He added: "Focus will continue to trade as we look for a buyer for the group and its stores. It is very much business as usual and we are grateful to all the group's loyal customers, suppliers and employees for their continued support."
The company announced its intention to appoint administrators on its website, which is not currently taking orders.
Focus DIY operates from 175 stores across the UK and employs 3,920 staff.
Keep checking diyweek.net for more updates.
Comments
---
11/05/2011 10:12:00
Where's the money?
By Quizzical
Given that when focus called in the administrators it would have had more money in the bank than at any other time this calendar year (right after four major bank holidays very close together), how could they default on a loan? Who called time? makes you think.
---
10/05/2011 20:11:00
By aliveandkickin
Lets hope that wickes take over some of the stores, and take the staff with them, shame this has to happen, I suppose its a sign of the times.
---
09/05/2011 22:49:00
Focus
By Del Boy
I think it is disgusting how Loyal customers are being treated but even worse how Staff and Managers have been left to take the flack. Minimal support has been provided, surely security guards would help defuse volatile situations and make employees feel safer!!!
---
08/05/2011 06:57:00
Focus
By Daisy
I work for Focus as a manager and Iam truly devastated. Not only are all my staff getting abuse but clearly I am concerned about their jobs and future. None of the staff knew this was going to happen so why are we getting abuse from customers, they seem to forget that we don't know how long we have jobs for, if we are getting paid or indeed if we are going to loose our homes. Give us a break. I truly hope the range does buy us and transfer colleagues contracts over. Am disgusted that kingfisher has not taken on the staff especially when they paid peanuts for the stores. ext time you are in a Focus think of the staff
---
06/05/2011 10:04:00
move with the times
By by possible supplier
we offered great products at the best prices but the outmoded way of doing business meant they had to attach all sorts of additional costs and therefore the price meant they could not compete with the new kids on the block like the range
---
06/05/2011 08:16:00
focus
By mystery
it is a shame, the staff are getting abuse for something that is out of their control. hopefully they will find a buyer so they can save some of the jobs.
---
05/05/2011 15:23:00
Focus
By Ex Employee - Do It All
It's a real shame to see this happen getting too big in a declining market and having no real direction and proporsition for customers doent help either. "Great leaders to great things when no one os looking" in the case of the Focs senior management they have done the opposite. My heart goes out to all the store staff and friends.
---
05/05/2011 14:50:00
Focus
By David Meager
Not a surprise--it was only a case of when.
Obviously sorry for all staff invoved.
Remember the days when Great Mills were good prior to acquisition?
---
DIYWeek.net does not edit comments which are submitted directly by our users to express their own views. Please report abuse of our comment system here.
Back to main news page

© Datateam Business Media Limited 2011. DIY Week.net news articles may be copied or forwarded for individual use only. No other reproduction or distribution is permitted without prior written consent.