News
Published on 4 - May - 2011
Focus to enter administration
Focus DIY has said it intends to appoint Ernst & Young as administrators, suggesting reported talks between its owner Cerberus and potential buyer GA Europe were unsuccessful.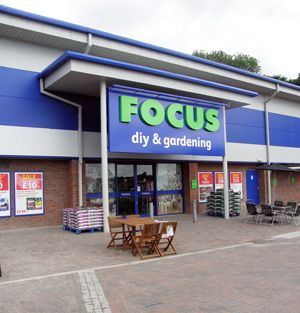 A statement sent by the company to creditors today said the directors at Focus have decided to file for administration following a credit default, "and a realisation that there were no alternatives".
Earlier reports claimed Cerberus and restructuring firm GA Europe were in talks today in a bid to save the ailing retail chain, and had until 5pm today to close a deal.
This latest announcement from the retailer suggests these talks were unsuccessful.
Focus admitted it had "fallen short" of its predictions for 2010 after conditions proved more difficult than expected, and entered into negotiations with landlords back in January to extend the terms of its CVA, which was agreed in August 2009.
Focus chairman Bill Grimsey told
DIY Week
last month that those negotiations had been "very positive and cooperative", but said the outlook remained "tough".
Cerberus, which acquired Focus in 2007 for £1, employed advisory investment bank Lazards to conduct a review of the business in November, while considering its investment options.
The retailer's most recent financial statement revealed a 3% decline in turnover to £486.9m for the year to February 2010.
Comments
---
05/05/2011 21:30:00
Bad Management
By diy man
Bad management at the top-full of hot air- gutless directors who never had the bottle to contact stores after what happened- its the staff that made the company-directors who destroyed it-staff who are instore taking the reins and carrying the can-
---
05/05/2011 19:52:00
Focus
By Mr DIY 1971
Having been in the retail DIY sector for 40 years this year,its sad to see one of the top four having to make such a massive step in appointing administrators to help bail out what ie a very strong business apart from the debt its been carrying for several years.For someone who was Managing a Dodge City Store when B+Q bought them back in the early 80s Allen Forster Great Guy and of Coarse Jim and Hugh what a team to work for good days hard work but a lot of fun.Then Jim Anderson and Texas again a lot of fun and hard work,Then Great MIlls Mike Robertshaw,Ken Loader,Russell Booth and of coarse Barry Norris again Hard Work but a lot of fun,Then Focus what can I say carring to much bagage,Steve Johnson and who can forget Simon,Simple Simon to the troups nice enough people but lacked the drive to put the business on its feet and then,although to be fair Bill and Rob have done there very best to drive the business forward but the draining of the shop floor troups certainly took its toll and has played a massive part in the companies decline The business is task driven and if the troups are not there then the task might be completed but to what standard.The point I am making is that the business is way to serious and needs to urgently inject some fun to the shop floor troups,B&Q.Homebase and Wickes will feel smug at present but from someone who has been about a while you need to lighten up and have some fun otherwise you could end up the same as FocusDIY.
---
05/05/2011 15:09:00
By Matt
I run a small independant DIY shop in Cheltenham and "the sheds" refusal to listen to there customers needs never ceases to amaze me. B&Q have stoped selling glass cutters, for example, on the basis that "it is a slow line". It is the odd items and slow lines (garnet polish, non standard blots etc) that are increasingly driving people to us in search of genuine service and a willingness to find the hard to get items for them. Bring back the traditional hardware shop. Use the independent shops when ever possible before we become a nation of cloned towns.
---
05/05/2011 11:43:00
Shame
By Advocate De'ville
It is sad that after dragging in Great Mills, A company operating well and profitably, they sold off the family silver and dragged them down as well
---
05/05/2011 11:10:00
About time.
By Eric Johnson
Any diy retailer who puts powertools and related accessories between glass chess sets and hair straighteners is clearly demonstrating a total lack of business accumen and almost contempt for their customers. When a consumer cannot buy 13 amp fuses from a diy store its time to shut shop.
Good riddance to a bad outlet badly managed from the top down.
---
05/05/2011 09:52:00
Focus
By Chris Pateman
Focus gone bust, eh? What? Even after all that blackmail and bluster last year about getting their landlords to reduce the rent or they would be responsible for putting all those poor people out of work? No doubt they have paid their rent right up to date, though, eh? Their landlords ought to have let them go bust last year.
---
04/05/2011 23:54:00
Oh Dear
By bob
A pound shop trying to be a million pound organisation. what can I say it was bound to happen when they lost the Do It All Brand. How many times have I heard people & friends saying popping to Do It All or on the phone to say " I'm in Do It All can't find that thingy you wanted" they need people who know what they are doing at the top not more Steve johnsons, & for god sake put staff in there that us customers can find, fed up of hearing "only me & bob in today". Well could say a lot more about my local "Pound Shop" but think the store Managment at the front of the healm should have had the guts to tell the pen pushers what it's really like on the front line. R.I.P Focus.
---
04/05/2011 17:38:00
Unfortunate
By Ossian
Very sad and this has been on the cards for a few yars now, certainly since 2009. A perfect example of what happens when you have a huge debt, it never goes away and comes back to bite you when times are tough.
---
DIYWeek.net does not edit comments which are submitted directly by our users to express their own views. Please report abuse of our comment system here.
Back to main news page

© Datateam Business Media Limited 2011. DIY Week.net news articles may be copied or forwarded for individual use only. No other reproduction or distribution is permitted without prior written consent.