Product News
Published on 27 - April - 2011
A good solution
The Anza Solutions range of brushes, rollers and paint pads is especially formulated for all paints and features the 'less mess' brush rest and ergonomic comfort handles.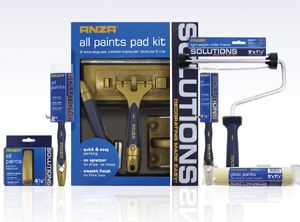 Low-splatter rollers give even coverage, while lightweight roller frames and extension poles offer easier, less-effort decorating.
The range also includes easy-to-clean paint pads and the edging pad for clean edging along frames, skirting and ceilings. Colour-coded packaging eases consumer choice instore.
For more information contact:
Hamilton Acorn Ltd
Back to main news page