Review
Published on 10 - March - 2011
Draper
Draper Tools' Ergo-Plus pliers bagged the Gold award in the tool category at this year's Totally awards.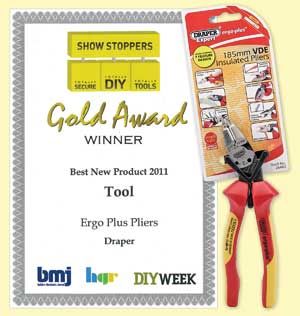 The German-made VDE pliers allow wire stripping, pattress screw/bolt cutting, wire cutting, terminal crimping, wire loop forming and flush cutting - all combined in just one tool.
Since launching last year, the pliers have received great reviews from leading experts and trade magazines, says Draper, and the Gold Show Stopper award appears to bear this out.
For more information contact:
Draper Tools Limited


Back to main news page

N.B. The information contained in this entry is provided by the above supplier, and does not necessarily reflect the views and opinions of the publisher