People News
Published on 17 - December - 2010
Bents thanks joinery team
Bents Garden & Home has extended its thanks to its teams of visual merchandisers and joiners who design and put together the company's inspirational Christmas displays each year.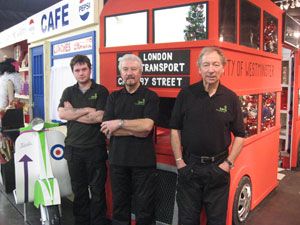 Karl, Mike and Jerry with some of their creations
Julian Lynch, Karl Sharples, Mike Lynch and Jerry Ormston are all talented craftsmen who use their skills to convert the many ideas and concepts into actual settings and backdrops for more than 17 Christmas themes, says Bents.
This year the joiners have created displays featuring a huge selection of eye-catching props from a bright red London bus and sixties-style moped to an Arctic Polar Bear Express and Fairytale Castle.
Bents md Matthew Bent said: "This year our Christmas team has created another fantastic display, and our joiners have excelled themselves with some of our best-ever scenery. I think a lot of people think we buy props in and employ people to put it all together, but it is all done in-house by Julian, Karl, Mike and Jerry, even down to the painted backdrops which can sometimes be a work of art in themselves. This year we really wanted to make people aware of their work so they get the credit they deserve."
The joinery team works throughout the year on a wide range of jobs including construction work for the plant area to scenery for other seasonal celebrations such as Halloween, Valentines Day and Easter.
Back to main news page