News
Published on 2 - November - 2010
Welsh carrier bag charge reduced
Welsh Assembly Government cuts compulsory carrier bag charge from 7p to 5p following advice from BRC.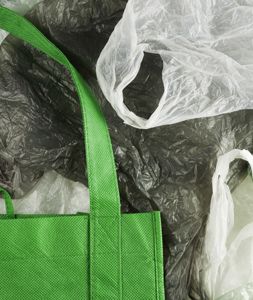 Despite the British Retail Consortium's (BRC) opposition to the introduction of compulsory bag charging, the Welsh Assembly is determined to press ahead with charging and will introduce compulsory carrier bag charges in October 2011.
However, it made the decision to reduce the charge when the BRC pointed out that the 7p it had initially planned would have made single use carrier bags 2p more expensive than some of the bags-for-life offered by retailers.
The BRC believed that, while such a move would increase the take-up of bags-for-life, a consequence could be a massive increase in the number of customers taking the thicker, heavier bags-for-life but treating them as single-use bags rather than re-using them. The move could have a significant impact on the environment, as each bag-for-life contains up to eight times as much material as a single-use carrier bag.
The BRC successfully lobbied the Welsh Assembly Government to set the price of single use carrier bags at 5p. However, while the BRC shares the Government's aim to reduce bag use, it remains steadfastly opposed to compulsory bag charges. The group has been very vocal in its belief that the best way to achieve lasting change is self-regulation and to allow retailers to adopt schemes that they judge will work best with their own customers.
This approach has already seen Welsh retailers and customers reduce bag use by 50 per cent since 2006. The reduction in environmental impact has been greater still.
BRC head of environment Bob Gordon said: "Charging less for a bag-for-life appears, on the surface, to be a good way to get people to use them. But it would have encouraged customers to treat bags-for-life as disposable, which we need to avoid. There is more material in a bag-for-life and if it is taken home and thrown away immediately, its environmental impact is up to eight times greater than that of a single-use carrier bag. That's the opposite of what we're trying to achieve.
"You can't shift consumer behaviour simply by legislating on charges. As we've always said, the key to reducing the environmental impact of carrier bags is education and persuasion rather then financial penalties. Welsh retailers have already achieved a 50 per cent reduction in bag use since 2006 by encouraging customers to reuse their bags. We're confident that trend would continue without the introduction of a compulsory national carrier-bag charge."
DIYWeek.net does not edit comments which are submitted directly by our users to express their own views. Please report abuse of our comment system here.
Back to main news page

© Datateam Business Media Limited 2010. DIY Week.net news articles may be copied or forwarded for individual use only. No other reproduction or distribution is permitted without prior written consent.