News
Published on 3 - August - 2010
Business groups criticise 7p charge on carrier bags
CBI Wales describes proposition by Welsh Assembly Government as a "big rush" and claim that some big retailers are not even aware of the plans, which could come into effect as early as next spring.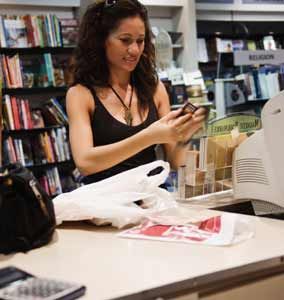 This is the second time that the Assembly Government has tried to push through a charge on single use carrier bags - with a previous period of consultation in June 2009.
The new regulations will require all retailers in Wales, including supermarkets, DIY stores, clothes shops and even fast food takeaways, to charge customers 7p per single-use bag or face a fine of up to £250,000. The consultation, which ended yesterday, could see the charge come into effect as early as March 2011.
However, CBI Wales is urging the Assembly to think again about plans to enforce the charge and calls for a voluntary approach to be adopted, following the success of pledges by leading retailers over the past two years.
In 2008, members of the British Retail Consortium (BRC), including Tesco, Asda, M&S and Sainsbury's made a voluntary agreement to reduce the number of single-use carrier bags used in the UK by 50% by May 2009. The results, which were published last summer, revealed a 49% drop in the use of plastic bags in Wales. Scotland also reported a 49% reduction in the number of single-use plastic carrier bags handed out to customers.
CBI's David Rosser Commented: "Preparing for a nationwide charge in all supermarkets, DIY stores, fast food takeaways and clothes shops takes a considerable amount of time, With Welsh government guidance not available until January 2011, retailers will have only two months to plan with certainty. Companies would normally expect 12-18 months to plan and change systems."
He added: "More worryingly, I know the Assembly Government has yet to inform some big retailers of their plans. As a result, it is very unlikely that these companies will be ready by March 2011. We just cannot understand why the Assembly Government is in this big rush."
B&Q currently operates 20 stores in Wales, while Homebase and Focus DIY both have 15 stores. Leading supermarket Sainsburys has 12 sites in Wales.
The mandatory charge has been driven by Welsh Environment minister Jane Davidson, who explained: "I believe the seven pence charge is high enough to encourage consumers to change their shopping habits but not so high that it will stop impulse shopping or create a significant burden when we have forgotten reusable bags.
"I am confident that the Welsh public will embrace the carrier bag charge and see it as positive step towards preserving our beautiful countryside and helping Wales reduce its carbon footprint."
The Assembly's original proposition was that the charge begin in October 2011 - something that the CBI recommends the government body revert to, allowing Welsh businesses more time to prepare.
Another concern the business group has is for retail staff, who, explained Mr Rosser, "will be on the front-line from day one." `He added: "They will have to explain the government's charge to consumers. The Assembly Government must do all it can to minimise till-point tension".
480 million single use carrier bags are currently handed out to Welsh shoppers each year, with plastic bags comprising 2.7% (by weight) of all litter in Wales. According to the Assembly Government, it costs local authorities in Wales an estimated £1m to clean up plastic bags that litter the streets and roadsides every year.
DIYWeek.net does not edit comments which are submitted directly by our users to express their own views. Please report abuse of our comment system here.
Back to main news page

© Datateam Business Media Limited 2010. DIY Week.net news articles may be copied or forwarded for individual use only. No other reproduction or distribution is permitted without prior written consent.