News
Published on 8 - July - 2010
EXCLUSIVE: Focus launches convenience format
Focus will target urban infill areas and the UK's high streets with a new smaller 'convenience' DIY store format.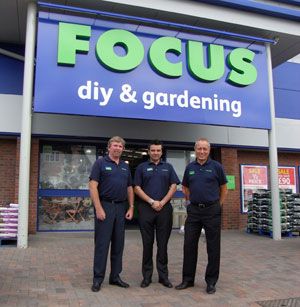 L-r: brand director Richard Bird, development director Mark Footman and chairman Bill Grimsey
In a similar move to the launch of supermarket small format high street stores, which now dominate the convenience foods sector, Focus will concentrate its efforts on smaller, outlets. This includes "carving off" and giving up retail space in existing units in order to downsize some of its larger stores.
The move is part of the company's 'Parasite Location Strategy' whereby it aims to open smaller stores, 15-20 minutes from competitor outlets to "cut off" parts of the catchment area.
Speaking exclusively to DIY week, chairman Bill Grimsey said: "we are really excited about the convenience store format, I can't emphasise enough that in order for the Focus business to create value for its stakeholders it has to differentiate, not compete head on."
The first smaller format store is already trading from the company's Congleton site.
Previously measuring 30,000sq ft with a 10,000sq ft garden centre, the store itself has been halved in size - yet still retains every category. The thinking behind the move is simple and the execution enviable. If the company can operate the same categories, generating the same sales, from half the retail space then profit, stockturn and efficiencies all improve accordingly.
The benefits to the landlords are also clear - they can secure another tenant (with a stronger covenant) for the space Focus relinquishes, increasing the overall rental value of the unit. In the case of Congleton an M&S Simply Food will open in the other half of the site by Christmas.
The Congleton store, which didn't close at all during the downsize and refit, reduced SKUs by 28% from 14,300 to 10,400 and has seen stockturn increase 38% to 5.5 sales per square foot rise 57% to £113.
Mr Grimsey said the downsize was relevant to up to three quarters of the Focus store portfolio, but that the Congleton site was only the beginning.
"I think we can go smaller," he told DIY Week. "I think we can take this onto the high street. I'm bullish about this and I think we can change DIY retailing."
For DIY Week's full report on the new format, a profile of the new Congleton store and interviews with Bill Grimsey and brand director Richard Bird see DIY Retail Leaders 2010, published with next week's
DIY Week
.
Comments
---
04/02/2011 22:55:00
smaller stores
By diyman
still waiting for this opening of parasite "convenience store format" all hot air ...
---
04/09/2010 18:02:00
smaller refreshed focus stores?????
By diy guru
Focus downsizing stores, making them more clinical than the average diy stores. Are they trying to compete with boots for cleanliness. The way the market is currently, you would have thought they would concentrate on employing staff to enable every customer being served and not walking out the door, increasing customer satisfaction/ sales and in turn profit. Instead stores look like they are running on bare minimum. There must be some issues at the top???
---
12/07/2010 21:23:00
By micamart
What goes around comes around. 80% of the sales from 20% of the stock. Isnt that where we started?
---
10/07/2010 20:26:00
tardis thinking
By smoking ferret
what happens when a customer comes in the small stores for 20 bags of compost or cement like in regular large stores?
---
09/07/2010 15:29:00
smaller high street stores
By diy man
But when are new small stores to open in high streets ? great great idea old woolworths/mfi stores ?take on wilkinsons .But not just cut floor space in large existing non profit stores and count this as "new parasite location"Action to speak larger than words
---
08/07/2010 15:38:00
smaller focus stores
By joe plug
does that mean we will see smaller displays of powertool accessories in between the glass chess sets and hair straighteners? Can;t wait.
---
08/07/2010 11:08:00
smaller high street stores
By tommy tec
Wow - change the face of DIY retailing by having smaller stores on the high street! What, you mean like there used to be and in many places still are? It's back to the future - next they'll be introducing the incredible innovation of selling screws in quantities that people actually want, perhaps even in a paper bag that's environmentally friendly.
---
DIYWeek.net does not edit comments which are submitted directly by our users to express their own views. Please report abuse of our comment system here.
Back to main news page

© Datateam Business Media Limited 2010. DIY Week.net news articles may be copied or forwarded for individual use only. No other reproduction or distribution is permitted without prior written consent.