News
Published on 7 - July - 2010
Remembered: Toolbank co-founder Arthur Clemson
Arthur Clemson, co-founder of Toolbank, passed away on June 5, aged 91. Here, he is remembered by his son, current Toolbank md Steve Clemson.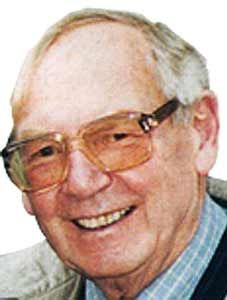 Arthur Clemson founded Toolbank with current chairman John Twallin
"After the Second World War, Arthur joined Buck & Hickman as a warehouseman and progressed from the goods inwards department through the general office to become an outside sales representative covering the whole of Birmingham - on foot and without a company car! Eventually a company car was provided and Arthur's success in sales led to his eventual appointment as Birmingham branch manager and later as national sales director.
The late 60s and early 70s were a time of turmoil in the tool trade. In a chance remark to his friend and colleague, John Twallin, Arthur remarked that he could probably make a good job of running his own tool business and, in late 1971, he left his former employer and C.A.Clemson & Sons Ltd was formed, jointly owned by Arthur and John, operating out of 5,000sq ft premises in Smethwick.
The business started trading in 1972 with a strictly wholesale only policy and sales in the first year were some £200,000. In 1975 a branch was opened in Pontypool to service the South Wales area, the branch being a 1,000sq ft partitioned area in a factory which produced drum taps and locking wrenches.
At around the same time, the opportunity arose to buy Curtis Holt Ltd, a wholesaler based in Greenhithe, Kent. John Twallin and others arranged to buy Curtis Holt. Arthur Clemson was appointed managing director and the newly acquired business was operated on the same lines as that of Clemson's in Smethwick. The business grew, branches were opened, and other companies (Finnie & Company Ltd and Rees Jones) acquired.
Arthur came up with the name 'Toolbank' as an umbrella name under which all the companies and branches would operate with common ethos, principles and standards of service and although he had been retired for many years, the values that Arthur and John Twallin instilled into Toolbank remain every bit as valid today as they did in 1971."
Comments
---
04/09/2011 18:56:00
Arthur Clemson
By Ian Ritchie
I privilege to have known Arthur, a true gentleman.
My condolences to his family and friends.
I made the wrong decision selling my Company to another Engineers Distributer, rather than the Toolbank Group.
---
16/08/2010 16:08:00
Arthur Clemson
By Roger Cottle
As well as being a wonderfully warm and kind individual, Arthur had a truly encyclopaedic knowledge of the tools he sold. It is rare today to find senior managers, let alone directors of tool companies with such a breadth of knowledge and such enthusiasm.
---
08/08/2010 18:20:00
The days of true Wholesalers
By Tony Woodward
Arthur will always be remembered for being one of the characters of a trade that believed in service and friendship with their customers and competitors.Things that are unfortunately missing today.
---
07/07/2010 17:57:00
a true gentleman Arthur Clemson
By Bill Hardeman
Arthur was a true gentleman, and will be sorely missed,i wish to send my condolences to all the family.
---
DIYWeek.net does not edit comments which are submitted directly by our users to express their own views. Please report abuse of our comment system here.
Back to main news page

© Datateam Business Media Limited 2010. DIY Week.net news articles may be copied or forwarded for individual use only. No other reproduction or distribution is permitted without prior written consent.