People News
Published on 16 - June - 2010
Wickes winner
James Mackrell has won the Wickes Store Manager of the Year Award for his outstanding performance in the development and success of both his store and his team.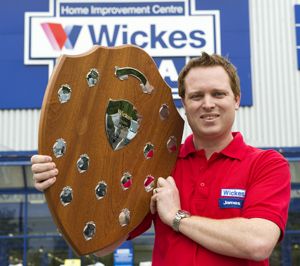 Mr Mackrell, who runs the Hedge End store, was recently presented with the company shield to keep for the next year, plus rewards for himself and his store colleagues.
He said: "I am honoured to be named as Wickes Store Manager of the Year and am really proud of the Hedge End team for all of their hard work throughout 2009 - we're hoping 2010 will be even more successful!"
Mr Mackrell began his career at Wickes more than five years ago as a manager in training at Hedge End, before being promoted to merchandise manager at the Salisbury store. His first store manager appointment was at Wickes in Reading.
Wickes operations director David Furness said: "Fantastic store managers really help us to push our business forward, so it's really important to acknowledge their dedication and the incredible work they do for us. James is an outstanding ambassador for Wickes, who manages his store to the highest of standards.
"The role of a good manager is not only to ensure that the store is running efficiently every day, but also to spot and nurture the potential in others and this is certainly one of James's key strengths. James and his store team have had a brilliant year and should be extremely proud of their achievements."
Back to main news page