News
Published on 2 - June - 2010
Profits fall at Topps Tiles
The retailer sees a decline in profits, but says it is "well placed" for when consumer confidence returns, with controlled costs and new marketing plans.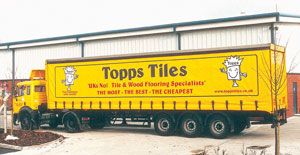 Topps Tiles has reported a fall in adjusted profit before tax and discontinued operations to £7.8m in the 27 weeks to April 3, 2010, down from £8.7m in 2009.
Group like-for-like revenue increased by 2% for the period, compared to a decline of 18.5% last year (based on the 26 weeks to March 28, 2009).
Group revenue climbed from £87.6m to £91.4m, an overall increase of 4.3%, although when restated on an equivalent reporting period to last year, the rise in total revenue actually comes to just 0.2%.
However, the first seven weeks of the current period show overall group revenues are down 5.1%, with like-for-like revenues also down by 4.3%. This demonstrates "the challenges facing retailers, with ongoing pressure on consumer spending levels and confidence", said the company.
Topps Tiles also reported that it has withdrawn from its Dutch subsidiary,
as announced in December 2009
, after it made a loss of £5m during the last financial period.
Commenting on the results, chief executive Matthew Williams said: "The economic environment remains challenging for retailers, with consumer confidence and discretionary spending continuing to show signs of weakness. In light of this backdrop, our business has performed robustly, growing sales and continuing to keep a tight control on costs. As the market-leading brand with a distinct focus on outstanding customer service and value, we believe the business is well placed to benefit when consumer confidence returns."
At the period end, the group was trading from 309 stores in the UK, down from 317 UK stores in March 2009, and said it has adopted a prudent approach to expansion of its store estate, only considering opportunities that are "an excellent fit with the existing portfolio".
The retailer said its e-commerce business, recently re-launched, "continues to make good progress", with a mobile phone version of the product catalogue and store locator also launched recently.
The company reported that underlying costs have remained in line with the previous year, in which savings of around £9m were generated. Areas in which Topps says it would like to re-invest these savings, at an "appropriate" time, include staffing and marketing.
Speaking to DIY Week, Topps business development director Nicholas Ounstead confirmed that the company has been dipping its toe in the marketing waters again with a couple of sponsorships, including the Home channel and Carlton's London weather forecasts.
The company also teamed up with artists and conservationists to sponsor a life-sized statue of a baby elephant for London's Elephant Parade 2010.
Mr Ounstead said: "We're not spending millions and millions, but we're just having a little look. We did cut back quite a lot in the last couple of years and have been off the TV for a while. However, we're now in quite a good position in terms of cash, so if there's any sign of a pick up we'll try and re-introduce more marketing, but we have got to get good value for money. At the moment, we have done it in a small way, we haven't gone mad, but if it's successful we want to continue."
DIYWeek.net does not edit comments which are submitted directly by our users to express their own views. Please report abuse of our comment system here.
Back to main news page

© Datateam Business Media Limited 2010. DIY Week.net news articles may be copied or forwarded for individual use only. No other reproduction or distribution is permitted without prior written consent.