Product News
Published on 20 - May - 2010
New Evo-Stik App
Evo-Stik has developed an Apple iPhone application offering DIYers product advice and stockist details.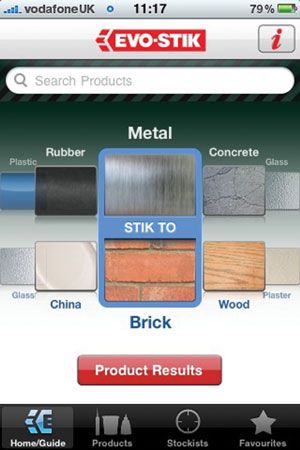 The free App enables customers to identify the right product for a job by either picking the two surfaces that need to be joined together from an interactive carousel or browsing a range of categories.
It then uses GPS to plot their exact location and find the nearest stockist of selected products on a map. Favourite products and stockists can be bookmarked for quick referral in the future.
The iPhone application will be promoted on pack across a number of core Evo-Stik products.
For more information contact:
Bostik Ltd
Back to main news page