News
Published on 7 - April - 2010
Garden Centre Group tests Easter Sunday opening
The Garden Centre Group tested trading laws last weekend by opening 74 stores across England and Wales on Easter Sunday despite the ban.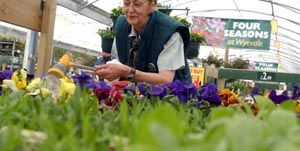 The company's 'gardening club' members were invited to the centres to examine plants, garden furniture and barbecues but were unable to actually purchase anything.
Many people who turned up were allowed to become club members on the day, and the company hoped that, having browsed on Sunday, customers would return on the bank holiday Monday to spend.
The 1994 Sunday Trading Act allows shops larger than 280sq m to open on Sundays but Christmas Day and Easter Sunday are excluded, and anyone selling plants or equipment could be fined up to £50,000.
The Horticultural Trades Association (HTA) says the laws are confusing and argues there is increasing demand for garden centres to open on Easter Sunday.
New research from the HTA, which took place between March 12-18, shows almost half (47%) of people believe that garden centres should be allowed to trade on Easter Sunday compared with 39% who said they shouldn't.
HTA marketing director Andrew Maxted said: "The Sunday trading laws are a mess and cause confusion and frustration for gardeners and garden centre staff alike. We believe the time is ripe for change and are working to influence government and amend this outdated and unnecessary legislation.
"This latest research reveals that public opinion is increasingly on the side of greater flexibility for garden centre opening. There are a number of factors driving this including growing interest in the act of gardening itself. More time pressures mean that for many people the weekend is the only time available both to garden and to shop for the garden and the long Easter weekend, coming right at the start of the season, is clearly a premium time for this."
Mr Maxted continued: "At a time when the government is actively promoting green issues it is a particular nonsense to encourage environmentally friendly activities on the one hand and then restrict the times when the public can do this on the other."
Many of the 74 stores opened their restaurants and cafes, a type of business exempt from Sunday trading laws. Simon Hall, deputy manager at the Brighton Garden Centre (part of the Garden Centre Group) said that the centre's restaurant did well on Easter Sunday and that the day had been a success.
A spokesperson for the Garden Centre Group said: "We wanted to have a special day for our gardening club members. As garden centres aren't allowed to open to the public on Easter Sunday, we thought it was an ideal date for us to hold a gardening club members' only day.
"We had a lovely day. Hundreds of people turned out and took part in lots of fun activities. We held an Easter bunny hunt for children, which was very popular and our restaurant was open for lunch serving English lamb and homemade puddings as well as afternoon tea... It was a thoroughly enjoyable day, gardening club members were delighted to be treated to a private opening of the garden centre and staff loved the opportunity to talk to them."
The company, which trades under names such as Wyevale and Booms, told DIY Week that the decision to open was "all entirely legal" and therefore holds no risk of prosecution.
Comments
---
08/04/2010 19:45:00
By micamart
What a sad bunch these "gardeners" must be if the best option open to them on a reasonable, dry day was to visit a garden centre cafe . No wonder we have the society problems around if this is real depth to which we have all sunk. I do not want this to reflect upon the hardworking "assistants" who doubtless were all "volunteers"
---
08/04/2010 15:50:00
Easter Sunday Trading
By Anon.
What's about giving workers at least Easter and Christmas off with their families! What's the betting Nicholas Marshall had the day off?
---
DIYWeek.net does not edit comments which are submitted directly by our users to express their own views. Please report abuse of our comment system here.
Back to main news page

© Datateam Business Media Limited 2010. DIY Week.net news articles may be copied or forwarded for individual use only. No other reproduction or distribution is permitted without prior written consent.