News
Published on 19 - November - 2009
Robert Dyas reaches 100
High street hardware and housewares chain Robert Dyas will open its 100th store tomorrow, Friday November 20th.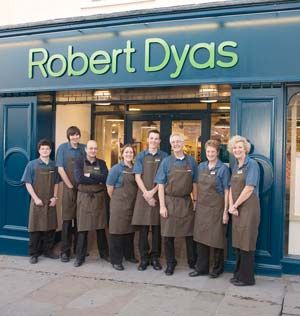 The new look branding and uniforms at the Colchester store
The latest store, which will be the third to feature the new Robert Dyas brand identity, is opening in East Sheen to meet customer demand in southwest London.
Robert Dyas ceo Steven Round said: "We are really excited about the new store opening. Since the management buyout earlier this year we have been focused on growing the Robert Dyas brand and increasing our high street presence even further.
"We are also investing heavily in the re-branding and refurbishments of our stores to reflect the progression of the brand. To date we have already re-opened our Colchester and Maidenhead premises as 'Stores of the Future', and now we are opening a brand new one in East Sheen."
Comments
---
09/04/2010 18:06:00
dermots comment
By x
dermot if you read the whole article it explains that robert dyas were set to open 100th store in east sheen it just pictured the colchester shop. Robert dyas seems to be doing very well in the recession!!
---
01/04/2010 01:47:00
100th store?
By Dermot
This wasn't there 100th store, this was an existing shop tarted up! Bought out by Lloyds (government owned) are they now using government spin???
---
22/11/2009 12:31:00
Well Done Robert Dyas
By Suzy
Thank Goodness that there is one Success Story in this blasted recession. Well Done ROBERT DYAS, long may you grow and prosper.. Congratulations to the new management - a brave move just six months after the fall of Woolies and MFI - keep up the god work!
---
DIYWeek.net does not edit comments which are submitted directly by our users to express their own views. Please report abuse of our comment system here.
Back to main news page

© Datateam Business Media Limited 2009. DIY Week.net news articles may be copied or forwarded for individual use only. No other reproduction or distribution is permitted without prior written consent.