News
Published on 28 - October - 2009
Ad watchdog supports JML Twista Mop no-drip claim
JML Direct has successfully defended its claim that its Twista Mop wrings out every last drop of water.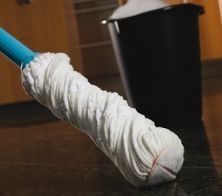 The Twista Mop "wrings out every last drop"
The Advertising Standards Authority rejected a complaint from a viewer of the company's television advertisement for the mop, which said it was "super absorbent, yet the 360 degree twist wrings out every last drop".
The complainant found that the 360 degree twist did not wring out every last drop of liquid and challenged whether the ad was misleading.
In its defence, JML sent a report from an independent company that had tested the wring-out efficiency, absorbency and drip resistance of the mop, and which concluded that there was satisfactory evidence for the claims.
The ASA noted that the performance of the Twista Mop might vary depending on the amount of effort put in by the user. However, it said that because the tests showed that it absorbed more water than a traditional string mop and did not drip after being wrung out, the claims could be supported.
Comments
---
09/08/2012 12:04:00
failure to launch....
By kez
In actual fact I hav the same complain, it doesn't completely wring out every last drop, and my husband and I hav both tried It so it can't just be that this complaimt Is soley made by a. woman whos efforts is not enough. So back it up by wat u wish, if the customer is not satisfied , then something should be done! We hav been wringing it manually to make sure the mop is rid of "every last drop!"
---
29/10/2009 14:51:00
Mop drops
By Millie
Makes you wonder who complained? A rival mop brand perhaps?
---
28/10/2009 11:06:00
mop
By Bob
Great story, but really what a waste of everyone's time in making a complaint in the first place!
---
DIYWeek.net does not edit comments which are submitted directly by our users to express their own views. Please report abuse of our comment system here.
Back to main news page

© Datateam Business Media Limited 2009. DIY Week.net news articles may be copied or forwarded for individual use only. No other reproduction or distribution is permitted without prior written consent.