News
Published on 21 - October - 2009
Homebase sales up 3%
Home enhancement retailer bucks the market trend as 'big ticket' sales boost its first half figures.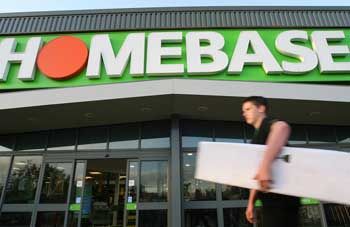 Homebase sales were up 4.4% to £866m for the 26 weeks to August 29, 2009, while it's like-for-like (like) figure was up 2.8%, compared with a decline of 10.3% in the same period last year.
Despite tough trading conditions, its parent company Home Retail Group, said the home enhancement chain "delivered a strong result in its peak period", benefiting from favourable weather and a strong performance in big-ticket categories.
Kitchen sales were described as "exceptional", boosted by the national rollout of kitchen installations, new ranges and the withdrawal of competitors from the marketplace. Homebase's furniture sales also grew in the 26-week period, driven by a dedicated furniture catalogue, which now features 1,500 lines.
The retailer has driven sales in this category further by keeping promotional furniture displays on the seasonal floor area in around 100 of its stores, "utilising the high footfall space more efficiently throughout the year".
Sales across other areas, including Homebase's core DIY and decorating offer, were broadly flat, which the company described as "an improvement" on preceding periods.
However, greater promotional activity and heavy discounting hit Homebase's gross margin hard, with the retailer reporting a drop of 325 basis points in the 26-week period. Home Retail Group expects the "dilutive impact" on the gross margin to increase in the second half of the year as a result of the adverse currency rate.
Homebase has reduced its operating and distribution costs by around £30m in the first half, benefiting from a 15% reduction in head office roles and a 5% cut in store-based full-time positions, made at the end of the last financial year. It also reduced store payroll costs by altering shift patterns.
Also part of the Home Retail Group, Argos, saw its total sales rise 1.7% in the 26-week period, while lfl sales declined by 2.1%. The company cited "challenging market conditions in home-related areas" as the reason for the drop.
The catalogue retailer strengthened its Argos Value range, extending it to include more than 300 products - double last year's offer. It has also increased its promotional activity with its 'Wow' deals, which now feature physical store displays, as well as online and catalogue presence.
The acquisitions of the Alba and Bush brands has allowed Argos to reposition its own-brand ranges and expand into areas such as white goods.
The retailer's gross margin rate was down by approximately 100 basis points, driven by a move towards lower margin consumer electronic categories and away from higher margin home-related areas.
Home Retail Group chief executive Terry Duddy said: "The trading performance at both Argos and Homebase exceeded our expectations. Whilst the consumer environment proved challenging, we have adapted well and maximised the benefit from more favourable weather conditions for Homebase. Our focus on cash margin and an extremely tight control of costs have been the clear drivers of a successful first half performance.
"We continue to plan cautiously for consumer demand over the remainder of the financial year, and there will also be a more significant impact from adverse currency movements during this period. The Group's operational and financial strength will continue to sustain our competitive advantage in the market place."
Comments
---
03/03/2010 20:26:00
Homebase
By Unhappy Shopper
Good choice but do their staff ever need training in customer relations!
Local store refused point blank to sell me a remaindered 5 item because it "hadn't got the bar code on it". The chap there seemed to regard it as some kind of victory that I wasn't able to buy it. Not the right attitude to encourage customers to return.
---
23/10/2009 08:56:00
Cost cutting v's service
By Anonymous
This company may have show growth and financial restrain but they have sacrificed service over this period and this will no doubt be seen by all further down the line as the service brand is diluted by poor service
---
DIYWeek.net does not edit comments which are submitted directly by our users to express their own views. Please report abuse of our comment system here.
Back to main news page

© Datateam Business Media Limited 2009. DIY Week.net news articles may be copied or forwarded for individual use only. No other reproduction or distribution is permitted without prior written consent.