People News
Published on 15 - October - 2009
Dragon's Den
Bents Garden & Home was host to a visit from celebrity entrepreneur Peter Jones last month.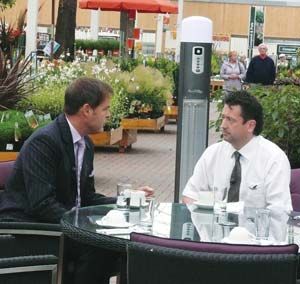 Peter Jones (left) with Eddie Middleton
The TV dragon met with Eddie Middleton, who turned down investment from Mr Jones on the BBC2 program Dragons' Den in his eco-friendly 'Chillchaser' patio heaters as part of Dragons' Den on Tour.
Bents are now stocking the Chillchaser.
Back to main news page