News
Published on 17 - September - 2009
Wilkinson squeezes suppliers
Suppliers under pressure as value retailer hardens its stance in review of buying terms.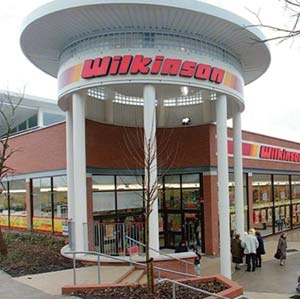 Wilkinson's Aylesbury store
High street value retailer Wilkinson has confirmed to DIY Week that it has embarked on a series of one-to-one meetings with suppliers to review its trading terms. And for some suppliers it seems this includes a request for substantial cash contributions to fund the company's expansion plans.
One supplier told DIY Week that they had been asked to make an "unconditional payment" and that, "those suppliers that made the payment would be looked upon favourably and those that didn't, wouldn't." However, the supplier continued, no assurances were offered in return.
A spokesperson for Wilkinson told DIY Week: "Wilkinson can confirm that, following a full review of its supply arrangements, the company is reviewing its trading terms with all of its suppliers.
"Our relationships with suppliers large and small are important and play a significant part in our success as a value retailer of quality products. It is in our customers' interests that we offer them the best products at the best price, sourced from suppliers best able to help us achieve this. Our discussions with suppliers are a positive and joint process to ensure we can continue to achieve best value for our customers through leveraging Wilkinson's growth.
"Our buying teams are currently engaging in one-to-one discussions with all our suppliers and until those discussions have been completed, we don't think it would be appropriate to comment on the detail of the new arrangements."
It is well documented that Wilkinson plans to increase its store portfolio to up to 500 by 2012. The company saw sales rise 6.2% for the full year to January 30 2009, with 26 stores added in the period and 15 more planned for the current financial year. However, operating profit dropped 35% from £48.8m to £31.6m in the same period.
The current economic climate and its effect on consumer confidence and behaviour have meant that the discounters are taking market share from mid-range and premium competitors. It makes sense that, in the vacuum left behind by Woolworths and with so much prime retail space on the UK's high street still up for grabs, now is a great time for well-placed businesses to grow.
However, it appears that Wilkinson is leaving behind it's previous strategy and image and adopting a far more aggressive approach than it has previously, in line with the larger multiples and supermarket chains.
One supplier who had been approached for an unconditional payment told DIY Week: "This style is very uncharacteristic of Wilkinson historically. Wilkinson have always played hard, but they always played absolutely straight, which I admired. That's why this new tactic was so surprising."
Comments
---
02/11/2010 16:02:00
wilkinson
By employee
I work for Wilkinson, and yes they have changed suppliers to asia now, although i do believe they still have some contact with china. Wilkinson still needs to survive, although it does seem unfair to the supplier that they get a low buying price from wilkinson, Wilkinson's do need to survive too. They are a brilliant company to work for, they dont just see there 22,000 employee's as numbers, they see them as an individual, also they value their customers. I understand that suppliers are not always better off, but businesses need cheaper products too, especially wilkinson as they are known for low prices. Ever since Mr Wilkinson the founer of wilkinson opened the store in the 1930s, he aimed to help people who were in horrific circumstances due to the world war, by selling value for money produts, which has continued over they years. Wilkinson have changed over the years for the better. Give them a break!
---
20/09/2009 18:24:00
Wilkinson
By Anon
It is a sad indictment of how a once great company with a reputation for real supplier partnerships and straight, honest,although tough negotiations for terms has fallen into the "Big Bully Boy" tactics that are now forced on suppliers.
there is only so much they can take... surely it is time for suppliers to say NO MORE..... I talk to many other suppliers about these latest tactics and there is no positive comments about Wilkinson any more. They should be picking up so much of the old Woolworth's business that they should not need to "beat" the suppliers for cash to fund their poor profit performance. Perhaps it is to fund expensive rebranding, massive overhead costs and poor performance of new initiatives.??
JUST SAY NO..... most buyers can't handle that..(if you give in, they just think you have been making too much profit in the past.!!)
---
18/09/2009 17:13:00
Self inflicted
By Geoff
To a large extent the problems at Wilkinson's are self inflicted.Their success and growth over the past years as been achieved through a unique relationship with suppliers and sourcing agents who fully understood their business model and provided the products to both meet and importantly create customer demand. The change in focus in the last couple of years to direct sourcing means that the focus is now about hitting targets and ticking boxes at the expense of choice and sourcing new ideas with the consequent pressure on margins and reduced sales.
---
18/09/2009 09:40:00
Wilkinson
By James Stuart
I have to agree with the other commentators. They will squeeze, and squeeze the price. Then when the manufacturer skimps on quality and reliability to reduce the price, and they have to do a product recall, see how cheap the product is then!!!! It seems Wilkinson just wants cheap rubbish products. We used to supply Woolworths many years ago, and we were glad to get out as all we had was loads of work and no profit, to the detriment of our other customers!!
---
17/09/2009 14:57:00
Wilkinson
By Gary
Another nail in the coffin of british manufacturing industry. These large companies will keep squeezing until there is nothing left.
---
17/09/2009 14:43:00
By John Fowler ( bexfield scissors)
We supplied Wilko for many years, untill they went direct to China, and watched and worked with them to see them grow into there large HQ building. I doubt they need UK suppliers at all now, except maybe to help with cash flow. But good luck to them..
---
17/09/2009 11:43:00
Wilkinson
By Peter Moyleson
I think far too many people are too quick to come and complain, we have been a supplier to Wilkinson for many years and yes we have had conversations with them about terms. However let us not forget they have grown year after year, they are investing in new stores and providing valuable growth and I for one am happy to work with them to ensure my business grows with them. I think they are being tough, but wake up, the world is a tough place right now and I for one want Wilkinson to survive so my business can survive to.
I cautiously welcome their initiative and will continue to work with them going forwards.
---
17/09/2009 11:33:00
Wilkinsons
By Allison
I understand that part of the loss in profit for Wilks was due to millions being spent on opening a Far East trading Office. So, UK suppliers are been asked to fund that. Therefore suppliers will be paying for something that will take away there future business. Shooting ones self in the foot comes to mind !!!
---
DIYWeek.net does not edit comments which are submitted directly by our users to express their own views. Please report abuse of our comment system here.
Back to main news page

© Datateam Business Media Limited 2009. DIY Week.net news articles may be copied or forwarded for individual use only. No other reproduction or distribution is permitted without prior written consent.