News
Published on 6 - August - 2009
Focus pursues CVA to shed unprofitable leases
DIY chain in talks with creditors over deal that could save around £12m a year from non-trading properties.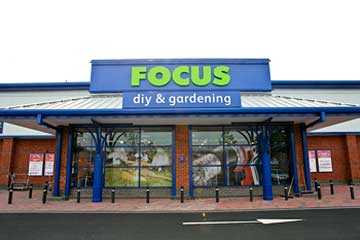 Focus DIY confirmed yesterday that it is planning a Company Voluntary Agreement (CVA) to help "safeguard" its future and that of its employees.
In a statement Focus said that it is in negotiations with advisers to address the company's "short term financial situation". It added that initial talks with its major creditors "indicate a broad level of support for the proposal".
However, there has been speculation that the company's landlords may oppose the move, which would see Focus hand back leases on 38 non-trading properties.
Under the proposed CVA Focus has state that landlords of the closed premises would receive two lump-sum payments in exchange for loss of rent. Turnaround specialist Company Rescue states that, with a well-written CVA, companies "can terminate landlords leases with nil cost". Focus would require the support of its landlords in a vote on August 24 to pass the CVA.
According to a report in The Times, if landlords do not back the CVA and Focus enters administration, it is likely that the company will re-emerge through a pre-pack deal, leaving landlords of the closed stores "empty handed".
The company statement claims that Focus is trading well but cannot support the cash drain of around £12m per year from its 38 non-trading properties - many of which were closed in September 2008.
It read: "The drain from these stores threatens the immediate future of the core business and, as such, the group presently considers a CVA to be the best course of action."
As part of the agreement, remaining landlords of trading Focus stores would be asked to accept monthly payments for the next 18 months, after which Focus would revert to quarterly payment.
Focus said that the company is trading inline with expectations and hopes the CVA will protect its future and those of its employees.
"A CVA at the current time would enable Focus DIY to safeguard all 4,572 jobs across all its current 180 stores and support centres, which are performing strongly in the current market. In addition the group can confirm that there will be no financial impact on its trade and non trade suppliers, who will continue to be paid in accordance with normal payment terms."
Comments
---
27/08/2009 13:39:00
cva
By s Nichol
It alright for people to say let the company go bust.However there is over 4000 people working for focus and what would happen to them and there family. It is better for the employees for focus to do the cva and get there cashflow back on line and save the 12m= million pound and reinvest this money into the stores and given customers what they want.Keeping peope in jobs will help the exonomy in the long run
---
17/08/2009 13:53:00
By Surveyor
In response to Stewart Ralstons note....'restrictive contracts'? we should not forget that a lease is granted at the time on a commercial basis following weeks possibly months of negotiation between business people. The tenant is free to negotiate its terms at that time and clearly on signing is happy with it. Its ludicrous to then expect to be able to renogotiate the terms to suit themselves at any time pursuant. Dont forget Landlords for large premieses are a business too requiring a return on their sizeable investment which could well be funded by banks requiring their interest to be paid quarterly!
---
11/08/2009 02:51:00
Focus
By jak Thom
Sadly most of the workforce at My Focus store feel very let down by senior managers. They see their employees as cheap imports, like most of our stock which is imported from China. Most managers at Focus stores do not live in the community but employ locals on short term contracts. Focus is a dinosaur. Its offering products most corner shops or market traders can offer 75% cheaper. I admit you have choice but sometimes this can confound customers who want quality and cheap products and expert advice and pounds of flesh from people trying to do their best.If Focus survives short term all hail to the smart moves of Bill Grimesy & Co. Long term ie 6 months...sack Bill and downsize stores and specialize and do not source products from China.
PS Treat staff like human beings(even students)
---
07/08/2009 22:59:00
the employee
By withheld
What a lovely comment "Let them go Bust". That is not an option for some of us that are dependable on the wage we get from Focus. It does make me wonder if our jobs are entirely safe. I have looked into CVA's and it can be taken in many different ways. Can one CVA be used to release the comapny from employee contracts or do they have to have a notice of claim for every different issue? If they dont then we are all screwed. If anyone can enlighten me then I would be very grateful.
---
07/08/2009 14:50:00
Focus CVA
By Hold on
At what point will they be trying this tactic with their supply chain?
---
06/08/2009 22:41:00
Focus CVA
By stewart ralston
Is it not better to have 50% of somthing opposed to 100% of nothing? I have seen industrial/trading estates that have been neglected by landlords, who in reality are only just investment trusts that have jumped on the band wagon of subsidised government/EU grants, attempting to maximise short term profits without consideration to the local economy. Rents that are inflexable, do not respond or flex to the trends of an economic downturn.......I kind of hope they go bust and get better deals in the prime sites that are going begging!!!!! Simple supply and demand... Surplus in retail space should allow for negotiation, however restrictive contracts and unflexable landlords do not bode well for everyone.
---
06/08/2009 13:37:00
Focus
By Chris Pateman
Just a minute. Focus are 'trading well' and 'in line with expectations', apart from the fact that their overheads are too high, to the tune of 12m a year? They're not trading well, then, are they? Much as I love the idea that occupancy costs should be an optional extra to our business models, I think most of us are of the view that they are a necessary cost of being in business.
Screw Focus; let them go bust. If they are willing to treat the contracts with their landlords in this fashion (complete with the threat of a ready-made 'pre-pack' phoenix deal if they don't play ball), how long before they're singing the same tune to their trade creditors?
---
06/08/2009 12:54:00
FOCUS CVA
By British Home Enhancement Association
BHETA members
This is to inform you that BHETA are working with our advisors to provide you with help and advice regarding the proposed Focus CVA.
Full information will be available shortly, if in the meantime, you have any specific or urgent concerns please contact the team at Brooke House.
---
DIYWeek.net does not edit comments which are submitted directly by our users to express their own views. Please report abuse of our comment system here.
Back to main news page

© Datateam Business Media Limited 2009. DIY Week.net news articles may be copied or forwarded for individual use only. No other reproduction or distribution is permitted without prior written consent.