News
Published on 15 - June - 2009
B&Q to offer DIY classes
DIY giant to help customers beat the credit crunch with instruction in home improvement techniques.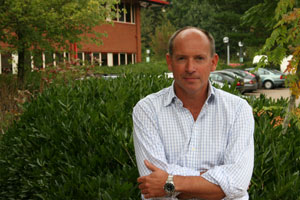 Ian Cheshire, chief executive of Kingfisher
B&Q may soon be offering DIY classes to customers who are increasingly doing the work themselves, but lack the requisite skills.
Ian Cheshire, chief executive of B&Q's parent Kingfisher, is keen to make the classes appeal to men who feel they need to hone their skills.
Speaking to The Financial Times, Mr Cheshire said: "DIY is getting a bit cooler again. [People] have got a bit more time and more tight [budget] pressures. Quite a few men don't know how to do these things," said Mr Cheshire. "[Women are] really keen to learn. We have to find a way of presenting it to the men that it is not embarrassing."
The classes, which B&Q hopes to begin running this autumn, build on a revival of interest in home improvement and are likely to be available only in bigger stores.
For more information or to book your place visit
diy.com
Comments
---
07/10/2013 12:33:00
painting and decorating
By charlie
are the courses still running in gillingham??
---
17/08/2012 18:49:00
Diy courses for ladies
By Hilary Nott
Can you please tell me if your doing ladies coursed in Swansea and when if so; Thanx
---
06/05/2012 14:57:00
DIY courses for ladies
By Theresa
When is B&Q starting a course in Pipps Hill, Basildon. I would like to attend the course asap
---
04/02/2012 23:19:00
Nearest courses to bs494lh
By Chris James
The nearest centre for you can do it classes to BS49 4LH is Cribbs causeway. Ask for Helen or stu
---
02/02/2012 17:25:00
By david hartley
B&Q COURSES [D.I.Y]for the ladies, where is the nearest to BS49 4LH
---
08/09/2011 14:16:00
Courses for women
By Phoebe
Are there any current courses running in Surrey/Berks/Hants? I'd really love to learn how to use equipment safely and learn basic skills to get started on home decorating and improving.
---
17/07/2011 16:38:00
By Pat Worsfold
Well it may be alright for some but I have tried Bedfors,Aylesbury,Hitchen and Milton Keynes so am prepared to travel.....but NO classes in Buckinghamshire, Beds or Herts!!
---
06/10/2010 20:35:00
DIY COURSES
By Sam
There is 21 available classes aimed at both men and women. They are being held at Trafford park, manchester, stoke on trent, coatbridge, swindon and gillingham.
---
23/09/2010 19:51:00
diy classes
By .
you can do it centres opening in october, trafford park manchester. book by visiting www.diy.com/youcandoitclasses. 21 courses availble from joinery to plumbing, by fully trained staff.
---
15/07/2010 16:59:00
Ladies Courses
By Elaine Piggott
Please can you advise if you have started the ladies DIY courses and where these are held.
---
30/06/2009 17:08:00
diy
By iam a hammer
who will be running these courses and are they fully trained in all aspects of the job.
---
28/06/2009 11:43:00
By Pauline Ferrier
DIY classes brilliant idea and I agree leave the men to it.I will send my hubby, he needs it!!!!
---
DIYWeek.net does not edit comments which are submitted directly by our users to express their own views. Please report abuse of our comment system here.
Back to main news page

© Datateam Business Media Limited 2009. DIY Week.net news articles may be copied or forwarded for individual use only. No other reproduction or distribution is permitted without prior written consent.