News
Published on 7 - April - 2009
Burgled homes to get free B&Q or Focus DIY vouchers
Burgled homeowners are to get advice and free vouchers from the big DIY sheds in an initiative launched by the Government.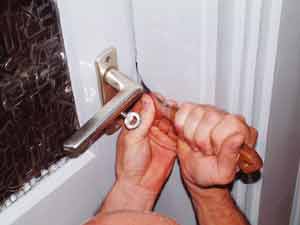 The package is part of wider government action to help increase people's personal security, particularly those who are the most vulnerable to burglary.
As well as ensuring criminals face the consequences of their crimes, according to the beleaguered Home Secretary Jacqui Smith.
The £15m funding includes a free advice pack for people concerned about becoming victims of burglary that provides simple and practical advice on what they can do to prevent it.
It includes discount vouchers for home security products from B&Q and Focus as well as a number of increased policing measures.
Chief executive of B&Q, Euan Sutherland, said: "Everyone should feel safe in their own home.
"This is not about scaremongering, it is about taking sensible precautions, and it needn't be expensive - we have bolts, padlocks and timer switches from as little as £2.
"We are delighted to be able to support the launch of the Government's new resource pack. In the pack you'll find a money off voucher for B&Q's 1,000 home security products, which will enable everyone to get what they need to secure their homes and ensure piece of mind."
Chief executive of Focus DIY, Bill Grimsey, said: "At Focus we have been working closely with leading security product suppliers to improve customer advice both in-store and on the website, including 'A practical guide to securing your home' leaflet.
"We are committed to delivering a Community Support Card valid for three months, which provides a 10% discount to customers who have been burgled, and those who have been identified as 'at-risk'.
"By providing real, practical help we are making it more affordable for customers to protect and secure their homes and reduce the risk of crime."
Comments
---
14/04/2009 17:44:00
Vouchers
By S. Lilley
Re Kelvin Rice letter
The point is not that the government are wrong to offer vouchers but that they should not only be available in a select few large stores.
---
13/04/2009 20:51:00
Vouchers.
By Kelvin Rice
As i can see everyone has mocked, but my sister has been burgled twice in as mant yrs. So this voucher/ money off scheme will prove invaluabe to her. Being a single parent on a low income she will be greatly helped with this discount.
So my point is although you may make fun of such ideas.... ppl are actually benifiting from them.
---
10/04/2009 08:35:00
Vouchers
By Jimbo
Creeps the lot of 'em, Jacqui obviously needs to re-decorate her house wherever she decides it is to maximise her expenses, she probably thought of it when she went to BnQ to buy that 88p Bath plug, I off to get a job appl for BnQ as no doubt them and Tesco are taking over the country!
---
09/04/2009 21:07:00
Vouchers
By S Lilley
I am sick and tired of Government, Energy companies etc. offering cheap goods via B&Q or other sheds/supermarkets, giving them free publicity and perpetuating the myth that they are cheap. Fortunatly more and more of the public are starting to realise small shops are usually better value and can offer advice to suit their needs.
---
09/04/2009 16:36:00
Advice !!!!!!
By Ed
Who has ever met anyone in B & Q who is qualified to give out "Security advice" ?
"Here U go luv This is our most expensive security lock, thanks for your voucher".
---
09/04/2009 16:23:00
Vouchers - (Two)Home(s) Secretary's bent thinking again
By P Buttle
Well expressed B Lamb. Saves me typing the same message.
---
09/04/2009 11:45:00
Vouchers
By B Lamb
Shouldn't this matter be put before the monopolies commission? Yet again Jacqui Smith gives B&Q an unfair trading advantage. Does she have a financial interest in the company? Is this another case of abuse of power or down right fraud? MPs aren't even bothering to be subtle about their corruption these days.
---
09/04/2009 11:25:00
Vouchers
By Jim The Paint
I suppose they are on a back hander for this now their expences are drying up!
---
09/04/2009 09:51:00
Security Vouchers
By JIM GODFREY
Does Light fingered Jacqui have a love affair with B n Q ? What about the scores of other supliers in many cases more qualified to give advice than Bee n Coo
---
07/04/2009 21:59:00
Vouchers
By Norman Miller
Agree entirely with Maclean - hello vouchers/package; come out come out wherever you are. Yet again a government minister spinning a web of flannel - queen of the spiders!
---
07/04/2009 15:31:00
Vouchers
By Maclean
Can someone please tell Jacqui Smith to print the vouchers then for those that need them, instead of hiding them. Where can you get these vouchers from
---
DIYWeek.net does not edit comments which are submitted directly by our users to express their own views. Please report abuse of our comment system here.
Back to main news page

© Datateam Business Media Limited 2009. DIY Week.net news articles may be copied or forwarded for individual use only. No other reproduction or distribution is permitted without prior written consent.