News
Published on 2 - April - 2009
B&Q appoints marketing director
Warren Scarr takes up role following departure of Jo Kenrick as part of a board restructure last year.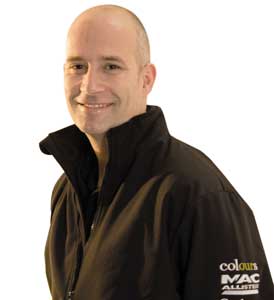 B&Q marketing diretor, Warren Scarr
Previously director of brand advertising within the B&Q marketing department, Mr Scarr has been promoted to the position of marketing director.
The move follows a restructure of the DIY chain's marketing department at board level, which saw the departure of former marketing director Jo Kenrick at the end of December last year.
It was originally announced that Rob Bacon would join the team from his position as chief operating officer at Carphone Warehouse. He was expected to assume the title of customer and employee brand director in a bid to 'bring together customer and staff agendas'. Mr Bacon will not be making the move to B&Q.
Mr Scarr's new role is an expansion of his previous position, where he is now responsible for the whole marketing function at B&Q, including advertising, in-store communications and brand marketing. He reports to commercial director John Colley.
B&Q announced a review of its £40m advertising contract in January. A shortlist of agencies is being drawn up, with a new appointment expected by summer.
Comments
---
15/11/2010 16:00:00
Ex display Kitchen
By Mrs M Khan Sheikh
For Rob Huck,
I have just had the same problem, I have since been told that the kitchen was not dismantled by kitchen fitters and the my granite worktop was thrown of the balcony at a height of 12 feet and shattered, double ove's door was bricken and most of the units have either brocken legs or have been ripped apart with the screw in exposing the chip board. This was the Crawley store and I think this is the way B&Q handle thing. This is a complete heap of rubbish, a butchers job to a perfectly good kitchen.
---
19/10/2009 18:57:00
Ex display kitchen
By Mr Robert Myles Huck (MBE)
We purchased an ex display kitchen from B&Q in Workington, Cumbria for 3000.
The customer service whilst purchasing was excellent. We arranged with the staff to have it delivered ready built(As it stood in the shop)We were assured that this would happen and that it would be on pallets and carefully packaged in bubble wrap to ensure that the high gloss finish was not damaged.
We returned the week later to take photos of the kitchen so that we could plan ours. Which my husband intended installing. I asked the shop assistant (Not the ladies we had initially seen and purchased the kitchen from one of which was the duty manager.) if it would be ok to do so and she was very helpful. We came out of the store having photographed the kitchen and having spent another 900+
on appliances. The assistant 'Emma' gave me a slip of paper with a code and her name on. Which we could use to log on to B&Q and complete a survey re: the service we had received from her....which I did and did so enthusiastically because of her excellent customer service.
Our 'Dream kitchen' was delivered on Friday 16th (Last Friday)
Not palleted, it was in pieces, not packaged or protected with bubble wrap as promised.
The delivery van was not a B&Q van. It did not have a lift. The total sum of protection for the whole kitchen was 2 blankets. Units were stacked on top of each other on the van.
Screws,fixings were dumped loose in a drawer.
Doors and drawers had been taken off the carcasses.
It was neither assembled or disassembled.
It is as though someone has become bored with the job half way through disassembly and thrown what they had done onto the van in a extremely haphazard fashion!
Obviously because of this lack of care in packaging the units there is substantial scuffing and scratching to the 'High Gloss' finish on them.
When I got home I phoned the Workington store and asked to speak to the store manager.
I was put through to (I later learned) the Showroom manager. Who said that she had ordered a new side panel which she had seen was damaged before the kitchen left the store and that 'they had ran out of bubble wrap!!!!'
I had a meeting on Friday evening and told her that I did not have time to check the kitchen but wished to lodge a complaint that we were not happy with the way it had been delivered or the condition it was left in.
I worked Saturday so on Sunday was at the store at 10.00am and spoke to the duty manager (The lady we originally dealt) and showed her the photos of how the kitchen had been delivered to us. She listened and then phoned the 'Manager' (Who again was the showroom manager...not the store manager even though that is who we requested when we entered the store)
She arranged that she would come and see the kitchen today at 11am. Which she did.
She said that she did'nt know why it had been dismantled and what did we want to do about it.
My wife told her that she wanted the kitchen to be collected and the payment refunded to us.
She assured my wife that she would see the store manager when she got to work.
I phoned my wife several times throughout the day to no avail. So at 4pm phoned ans asked to speak to the manager. Who was unavailable but the store room manager had 'Just popped out'
and would call my wife asap.
When she did she informed my wife that she had been onto customer services 'all day'
That they would not refund payment as it was an ex display kitchen.
When queried about the promises made to us and the state of delivery my wife was asked: 'How they were supposed to deliver an assembled kitchen to us? Did we have a forklift truck here?
My wife pointed out that usually it would be delivered on a truck with a lift.
Not on a white van with delivery men who were not employed by B&Q.
When questioned about the goods not being palleted and wrapped she said that they WERE palleted in the store and must have been taken off the pallets by the delivery men????
When my wife asked to speak to the store manager she was told that they were away for the rest of the week.
So I am now requesting that you can hopefully assist us in our plight.
I am happy to send you photos of the before and after photos of the kitchen.
Statements from neighbours and workmen who saw the kitchen being delivered and anything else you may require.
I sincerely hope that B&Qs reputation is as important to them as mine is to me and that you can help us remedy this injustice.
All this trouble for the price of a some bubble wrap and a decent delivery vehicle. I despair!!!!
There is penny pinching and then there is just stupidity and lack of care.
Thank you for your time.
I hope to hear from you soon.
Rob Huck (MBE)
405674
---
27/07/2009 17:35:00
Customer Service
By Jim
Hi Warren
Just bought some items from your Solhull shop on the Blossomfield Road. You have some new check out machines. They don't smile do they? They don't ask you if you need any help do they? They have no banter do they? Who came up with this idea? Sack them!
Regards JIM wjames177@hotmail.com
---
DIYWeek.net does not edit comments which are submitted directly by our users to express their own views. Please report abuse of our comment system here.
Back to main news page

© Datateam Business Media Limited 2009. DIY Week.net news articles may be copied or forwarded for individual use only. No other reproduction or distribution is permitted without prior written consent.