News
Published on 13 - February - 2009
Focus DIY launches loft insulation price war
Focus DIY is slashing prices on its loft insulation following the news B&Q has cut prices of a roll to £1.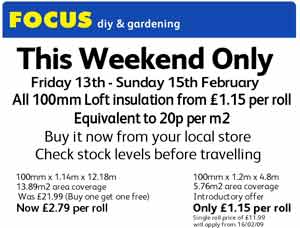 Advert for Focus DIY rolls
Focus is cutting prices to £1.15 for all 100mm x 1.2m x 4.8m loft insulation, which the chain says is equivalent to 20p per square metre, which usually sells at £11.99 a roll.
Its 100mm x 1.14m x 12.18, which was £21.99 is now £2.79 a roll.
B&Q's offer, which is backed by government funding and meant only for the general public, lasts as long as the one million rolls they've got for sale does.
The Kingfisher owned chain began prime time TV advertising of its £1 a roll promotion last night.
However, Focus' offer starts today (February 13) and will last until only Sunday (February 15).
Comments
---
Focus
By Mr Ceetee
I have just been down to my local Focus retailer (Walsall junction 10 M6) and they know nothing about the offer on loft insulation.Is this just a publicity stunt by them !!!!

---
Focus
By Gazza
No it is not, my local store knew all about the offer but had unfortunately sold out completely by the time i got a chance to pop in!

---

By dave g
B&Q had the roll for sale at 3 a roll which can be split into 3 rolls making it a pound a roll. focus had the exact same size roll for 2.79 which when split into 3 worked out at 93p a roll making it cheaper. It was like this in my store anyway! but only on one particular size

---
Foucs
By DIYER
Just bought 25 rolls of inusulation from focus at 1.15 per roll for 5.76 m2 + got 10% OAP distcount off for taken my old man along! This offer is cheaper than the B&Q one.

---

By kay holling
when the next offer on thank

---
DIYWeek.net does not edit comments which are submitted directly by our users to express their own views. Please report abuse of our comment system here.
Back to main news page

© Datateam Business Media Limited 2009. DIY Week.net news articles may be copied or forwarded for individual use only. No other reproduction or distribution is permitted without prior written consent.