News
Published on 11 - February - 2009
B&Q to sell rolls of loft insulation for £1
B&Q will sell a million rolls of loft insulation at just £1 a roll in what it claims is an industry first.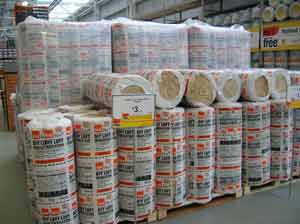 B&Q chief executive, Euan Sutherland, announced the deal which started today in the Kingfisher owned chain's flagship eco-store in New Malden, south London.
The deal began today, (February 11), only at the New Malden store - as part of its official opening - and will be available from all B&Q outlets from this Friday.
Mr Sutherland told diyweek.net: "We got a lot of attention when we started selling the rolls for £10 each.
"Now, as far as I'm aware this is the first time ever a roll of loft insulation has been sold for £1."
However, the deal will only last as long as the million rolls.
The rolls will be £1 and come in packs of 3, which will mean a cost of 61.3p per metre and should, according to the store, allow the average home to be insulated for under £25 and saving on average £200 a year on heating bills.
The scheme is backed by the Government's Carbon Emissions Reduction Target (CERT) scheme and is meant only for the general public.
Comments
---
2/26/2010 7:29:00 AM
Cheap Insulation.
By Bobchik
Concentrate on The length, meaning the length, the thickness and the density and wieght of the material. When glass wool comes of the manufacturers machine its 2 foot thick on the conveyor belt, they then compression roll it to a thinner thickness. These rolls are all [uncompressed] fresh air, the poly-bag there in probably costs more than the goods inside. Trade expert / 45 years exp.
---
Loft roll
By John Virgin
---
loft insultation
By micamart
That'll be 90p on wednesdays ,then !
"Can you carry all those, Pop?. Grip yer bus pass in yer teeth!"
---
loft insulation
By al
try and find 1 rolls of loft insulation!
as much chance as the wining the lottery!
---
Loft insulation - no spec - no availability?
By harryhound
---
Loft insulation - no spec - no availability?
By harryhound
You can get the average loft done with the power suppliers' discount for (say) 150 GBP ( free if aged over 70)BUT they expect you to clear out all that junk first.
DIY and you can move the junk around :-)
and organise suitable shelving.
BUT I need to know that the stuff is available and the size of the rolls before I drive miles to go and get it (how are your "insulation miles" as the stuff is mainly air anyway)
---
DIYWeek.net does not edit comments which are submitted directly by our users to express their own views. Please report abuse of our comment system here.
Back to main news page

© Datateam Business Media Limited 2009. DIY Week.net news articles may be copied or forwarded for individual use only. No other reproduction or distribution is permitted without prior written consent.