Product News
Published on 10 - February - 2009
Spring sales with Draper
The latest Top Deals promotion form Draper Tools includes more than 600 products and 38 countertop dispensers complete with contents.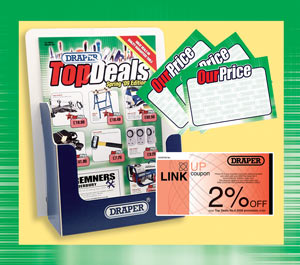 The Spring 09 promotion is completely flexible, allowing retailers to create promotions to suit their business. All leaflets are in colour and can be personalised with logo and contact details.
Each leaflet is also available in pdf format to upload to websites or email to customer databases. All qualifying orders will receive a free countertop leaflet dispenser and 20 price cards for instore displays, plus a coupon worth 2% off the first order on the Draper Autumn/Winter 09 promotion.
For more information contact:
Draper Tools Limited


Back to main news page