News
Published on 8 - January - 2009
Ban on 100watt lightbulbs begins September
Lighting Association and government hit back at reports that energy efficient lights are inferior or pose health risks as customers panic buy last supplies of incandescent bulbs.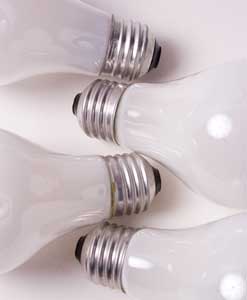 After 120 years, the traditional 100-watt bulb is set to vanish from the high street. The EU will impose a ban on sales of the bulbs from September as part of its energy efficiency drive. However, retailers will gradually phase the lights out over the course of the year.
According to reports, many leading retailers have already sold their last remaining stocks as consumers panic buy to stockpile the 100-watt bulbs.
The Daily Mail today suggested that consumers are opposed to the changeover, finding in favour of incandescent bulbs, which they believe offer superior lighting to their energy efficient CFL counterparts.
The story questioned the health risks of using low energy fluorescent bulbs, stating that they can cause 'skin rashes, migraines and epilepsy'. There were also concerns over the mercury content of the bulb, making them more hazardous to dispose of.
The Lighting Association (LA) disputes claims that low energy CFL bulbs offer inferior light quality compared with traditional lights. It stated: "Energy saving lamps from reputable manufacturers render a light quality, which approaches very closely that of incandescent lamps."
The LA issued a report arguing that health concerns over the low energy bulbs had been overstated. It stated that while there had been a small number of cases of low energy bulbs causing adverse reactions, technology has moved on and the older bulbs thought responsible have since been replaced. The new fluorescent models operate at a higher light frequency and are not known to have any health impacts.
The association also maintained that the lamps contain a very small amount of mercury and that they do not pose a health risk. It added that guidance is widely available for the disposal of low energy bulbs.
Ministers have said that the switch to low energy lightbulbs in place of 100w incandescent lamps will reduce carbon dioxide by five million tons each year. A 20watt energy efficient bulb in place of a traditional 100-watt lamp can save a household around e80 in its lifetime.
Comments
---
30/08/2009 21:20:00
100w lamp ban
By tony
reading the direct.gov website only the import of 100w lamps has been baned not the sale if you as a retailer is able to buy them in this country you can still sell them untill 2012
---
DIYWeek.net does not edit comments which are submitted directly by our users to express their own views. Please report abuse of our comment system here.
Back to main news page

© Datateam Business Media Limited 2009. DIY Week.net news articles may be copied or forwarded for individual use only. No other reproduction or distribution is permitted without prior written consent.