Product News
Published on 3 - December - 2008
Gorilla Glue wraps up Christmas for retailers
The countdown to Christmas has begun and Gorilla Glue's range of adhesives are set to be a hit with retailers who want to stock high-quality stocking filler solutions.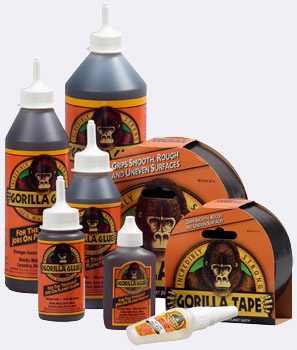 Consumers specifically asking for Gorilla Glue and Gorilla Tape products at stores have demonstrated an increase in brand awareness and customer confidence.
Retailing at a reasonable price-point, the products make perfect gifts for children to purchase for their parents, as well as great gift ideas for DIYers, handymen, sports enthusiasts and outdoor adventurers.
A kitchen drawer 'must have' Gorilla Glue is one of the toughest and most versatile all-purpose adhesives on the market, repairing almost any material including wood, stone, metal, ceramics, glass and foam.
The adhesive will also bond dissimilar materials such as wood to foam or leather to fabric.
The glue is also available in a handy 22ml Precision Glue Pen applicator, great for a Christmas stocking.
Gorilla Tape is a premium, all-purpose cloth tape, combining strength and usability Gorilla Tape provides maximum sticking power with incredible strength, whilst being easy to tear and use.
For more information contact:
Gorilla Glue Europe A/S
Back to main news page