Product News
Published on 27 - November - 2008
Ground level solution
Most timber posts rot within 200mm of the groundline and changes in preservative legislation in 2004 have exacerbated the problem. Postsaver25 is a sleeve that protects the fencepost at ground level from the organisms that cause decay.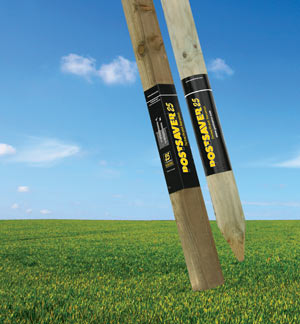 The patented polyethylene sleeve comes in a range of sizes up to 200mm and is applied to the post using a low-cost machine that heat shrinks the sleeve while melting the bituminous lining for adhesion. The result is a dual layer of protection with 50mm of sleeve above ground and 300mm below.
A new smaller machine - the Postsaver Pro-Contractor - is now available with an output of 90 150mm sleeves per hour. Postsaver is backed by a 25-year guarantee.
For more information contact:
Back to main news page