News
Published on 13 - November - 2008
Tesco makes first move into fitted kitchen market
Tesco has made an aggressive move into the fitted kitchen market by revealing a ready to install set for under £1000.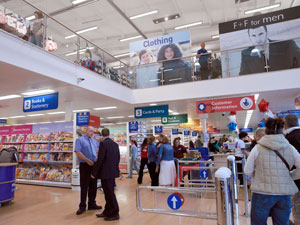 Tesco could sell kitchens in-store if sales go well
The kitchen costs £949, but doesn't include installation or appliances, and is being advertised by the supermarket giant as a solution to customers concerned about the credit crunch.
The firm called the move a 'first toe in the water' of the market.
Its range, which can only be bought online at
www.tescokitchens.com
, had already had 'thousands' of hits since its launch last weekend, according to the company.
Tesco has also said it carried out a 'soft launch' to promote the website to registered customers and would be monitoring the sales before deciding whether to offer the service at its supermarkets or expand the range.
The firm is hoping the move will entice its customer base into another sector at a time when fellow retailers are reporting losses in the kitchens market.
Their £949 option has 13 cabinets, the most expensive of which is a four draw base unit costing £136, as well as two work surfaces and free delivery.
Its range also includes a premium option and allows customers to design their kitchens online themselves or pay £25, which is refunded once a kitchen is bought, to have it designed for them.
Tesco's furniture director, Darren Clough, hopes the fact the kitchen comes in at under a £1000 will appeal to a more cash-conscience market.
He said: "With the average price of a fitted kitchen hitting almost £6,000 we hope our new range of kitchens will offer fantastic value.
"Whether it's a traditional look or contemporary style they're after, we'll be able to help create a dream kitchen, for a fraction of the usual cost."
Comments
---
06/05/2012 19:18:00
25 year guarantees
By Anon
Noticed the length of the guarantees offered, which is great! The clubcard points are a big attraction too.
No big deal you may say, but I can't see any other company other than the 3 or 4 major supermarket chains being around in 25 years time to honour the guarantee.
If they can make it into Kitchens, I can't see why they can't make it into building/selling homes (no doubt on condition that they are built around new/old Tesco stores).
---
07/11/2011 19:09:00
Google luck
By J W
Iv been in the kitchen industry for over 12 years and I am a fully qualified joiner. Iv ran factorys for other people as well as working on site as a fitter for a number of years. Iv worked for all the big names and even had a go at setting up my own company. Its not an easy industry to do business in. Saying this with the right people running the show it could be very successful as this is Tesco we are talking about.
---
25/05/2010 12:50:00
Having a laugh!
By D P Dance
I have just had a quote for 250+ for a 1000mm wall unit. A bit more than Howdens are asking I think!
---
30/03/2010 01:39:00
GOOD LUCK TESCO
By EX MFI
SEEN YOUR PRODUCT ....NOT SHORE ABOUT MK2 BUT YOUR COMPANY COULD TAKE THE MARKET BY STORM. IVE SEEN THE POWER OF YOUR CLUB CARD.AND WISH YOU ALL THE BEST....BUT REMEMBER... PEOPLE SELL KITCHENS ...
---
15/12/2009 14:50:00
kitchens by tesco
By kitchen pro
only time will tell if a success if mfi who had 60% market share made a hash of what chance have tesco a food retailer have? the product sounds like its made somewhere cheap allthought will probably appeal to the cash strapped buyers out there 1000 to buy but how much to install once the greedy middle men have had a cut of the installl costs? didnt currys have a go a few years ago? that was a failure then time willl tell if they can take on budget leader ikea!
---
22/04/2009 22:53:00
kitchens
By john
just about the same as all the others and 10 quid for planning service. I could have a dozen firms knocking on my door for nothing. You are having a laugh.
---
DIYWeek.net does not edit comments which are submitted directly by our users to express their own views. Please report abuse of our comment system here.
Back to main news page

© Datateam Business Media Limited 2008. DIY Week.net news articles may be copied or forwarded for individual use only. No other reproduction or distribution is permitted without prior written consent.